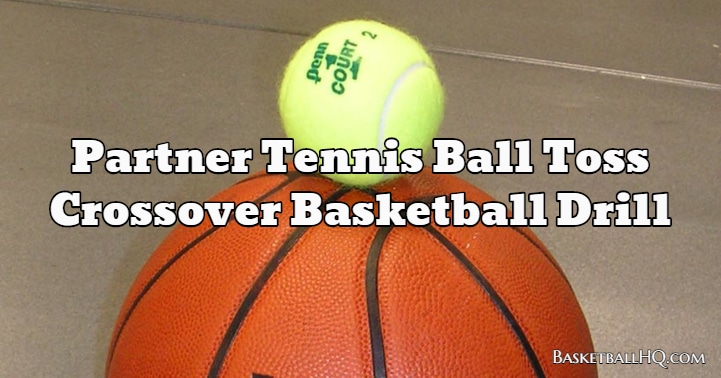 Sometimes there is not a lot of gym time, or you have a big group of players trying to work out at the same time. Partner tennis ball basketball dribbling drills are great for big groups of players. You can also work on multiple things at the same time; ball handling, hand-eye coordination, soft hands, good touch, teamwork, etc.
Basketball Drill Overview
Drill Name: Partner Tennis Ball Toss Crossover Basketball Drill
Equipment Needed: 2 tennis balls, 2 basketballs, and a partner.
Similar Basketball Drills and Resources
Goals of the Drill
Coaching Points
Make good tosses to your partner and watch the tennis ball in as you catch it.
Try to both pass the tennis ball at the same time.
Basketball Drill Instructions
Begin the basketball drill by facing your partner, stand about 8 feet apart.
Basketball should be in your right hand and tennis ball in your left (both players).
Get down in an athletic position and begin dribbling the basketball.
Both players will toss the ball at the same time, and while the ball is in the air, they will cross the basketball over to their other hand.
Catch the tennis ball and then toss it back as quickly as you can.
This drill should go for 30-60 seconds or until a certain number of catches is reached.