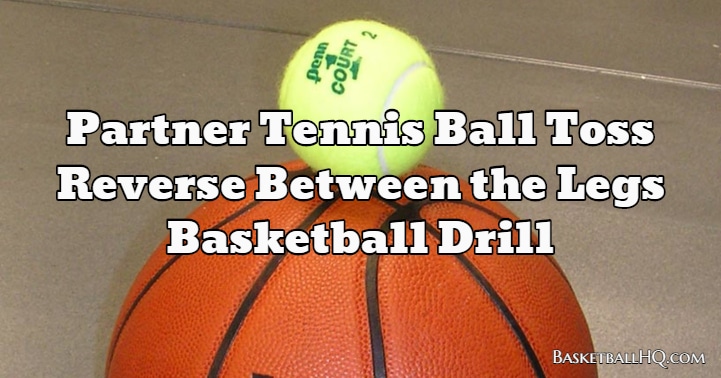 Partner tennis ball basketball dribbling drills are a great way to work out a lot of players at the same time and also is an excellent basketball drill to work on ball handling. Most younger players struggle to keep their eyes up when dribbling the basketball. Partner tennis ball drills make you keep your eyes up and make you focus on more than just handling the basketball.
Many players struggle to keep their eyes up while dribbling the basketball in a game, especially as they begin to encounter some pressure. By doing basketball dribbling drills with a tennis ball, the player will be forced to keep their eyes on the tennis ball. This will remove that instinct to look down when pressured.
Basketball Drill Overview
Drill Name: Partner Tennis Ball Toss Reverse Between the Legs Basketball Drill
Equipment Needed: 2 basketballs, 2 tennis balls, and a partner.
Similar Basketball Drills and Resources
Goals of the Drill
Work on the reverse between the legs move and hand-eye coordination.
Coaching Points
Keep your eyes up the whole time.
Don't raise out of your athletic stance and try to make a good toss to your partner each time.
Basketball Drill Instructions
Players will begin facing each other with a basketball in their right hand and a tennis ball in the other.
They will begin to dribble the basketball, and at the same time, they will toss the tennis ball to their partner's hand that is dribbling the basketball.
While the tennis balls are in the air, the players must make a reverse between the legs move and then catch the tennis ball with the hand that was just dribbling the basketball.
Alternate hands back and forth and continue this for 30-60 seconds.