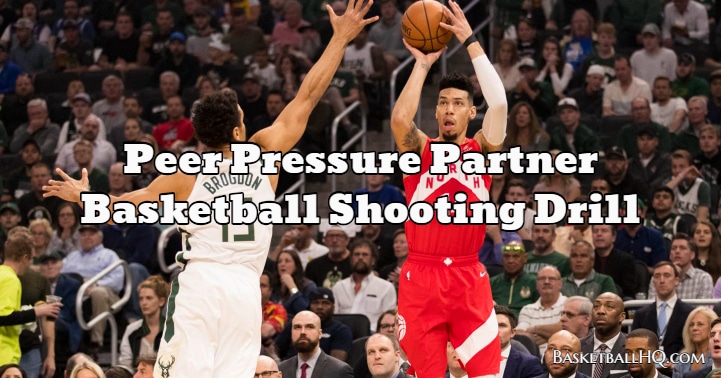 One of the most difficult things to do is simulate game pressure when practicing shooting. Shooting around in the gym is a different feel from being in front of a sold-out arena and making a shot with the game on the line. Basketball drills like this are designed to help simulate some pressure that you will feel in a game.
Having to make 2,3, or 4 shots in a row with a teammate will put some pressure on the shooters and help them to prepare a little bit for game pressure. Knowing that you have to make a shot or you are going to let your partner down helps to simulate a little bit of pressure and will help the player become more mentally strong. And then, when shooting in a game, if you know that you have already hit multiple big shots in a row during different basketball shooting drills, you are more likely to step up and make the shot when it matters.
Basketball Drill Overview
Drill Name: Peer Pressure Partner Basketball Shooting Drill
Equipment Needed: 1 Basketball and 1-3 Partners.
Similar Basketball Drills and Resources
Goals of the Drill
Work on shooting under pressure.
Coaching Points
Take it one shot at a time, and don't worry if you missed the last shot.
Be down ready to shoot as the ball comes to you.
Basketball Drill Instructions
The coach is going to predetermine 5-8 different types of shots for the players to shoot.
The partners together must make 2 in a row to move onto the next type of shot (to make the drill more difficult, you can make it 3 0r 4 makes in a row).
The line of players can start from 1 of 5 spots; either baseline, either wing, or the top of the key.
One player will start with the basketball in the paint, ready to pass out to the first shooter; they must pass with the weak hand.
For the video above, the order of shots is this; 15 jump shot, 15-foot freeze fake jump shot, sweep one-dribble pull up right, sweep one-dribble pull up left, shot fake one dribble pull up right, shot fake one dribble pull up left, 3 pointers, jab step go opposite  pull up, jab and go pull up, freeze fake 3 point shot, NBA 3 point shot, and NBA freeze fake 3 point shot.
**You can switch up the order of the shots to any order you want or add different types of shots.