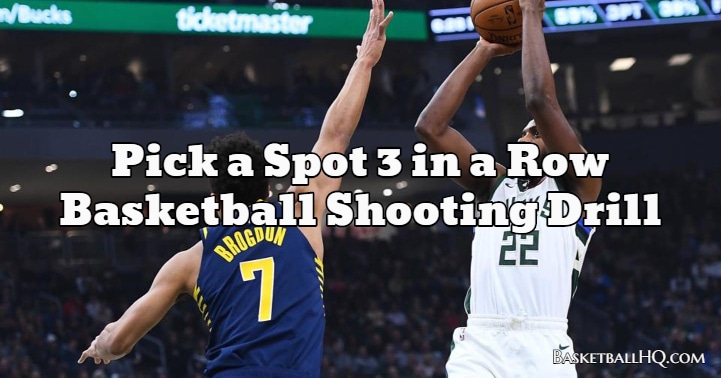 This catch and shoot basketball shooting drill will not be demanding on the player physically, but it will really help get quality repetitions and work on shooting under pressure mentally. High-level shooters in basketball put up hundreds of shots/makes a day, and sometimes that can honestly get boring.
When this happens, the shooter tends to check out mentally, and the shooting technique can get sloppy. Basketball shooting drills like this one are great to help keep the shooter competing and locked in mentally. This will help to make sure that every shot is valued, and that means quality shooting repetitions.
Basketball Drill Overview
Drill Name: Pick a Spot 3 in a Row Basketball Shooting Drill
Equipment Needed: 1-2 basketballs and 1-2 partners.
Similar Basketball Drills and Resources
Goals of the Drill
Coaching Points
Shoot the ball the same way every time.
If you miss a shot, move on.
Great shooters have a short memory and don't let one miss lead to another.
Basketball Drill Instructions
For this basketball drill, the shooter will shoot for one minute straight with a passer and a rebounder.
The shooter will pick any spot around the arc that they want, and they must make 3 shots in a row from that spot.
The player is not allowed to move spots until they make 3 in a row.
Once the player makes 3 in a row, they will pick another spot where they must do the same thing.
The goal is to complete at least 3 different spots in a minute.