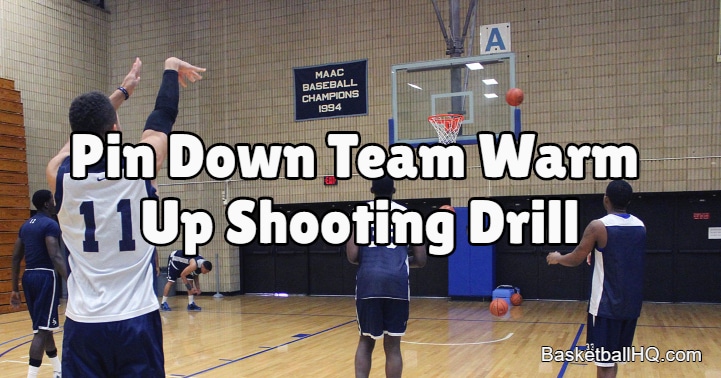 Basketball players need to see shots go in; the more they can see shots go in, the more confidence they will play with. So it is important to try and find time during practice to work on shooting. Unfortunately, as pretty much every coach knows, it seems like there is never enough time in practice to work on everything that you want to. So you need to find team basketball drills that maximize time.
This team shooting drill is great at maximizing time for two reasons, it allows every player to be involved in the basketball drill, and it can be substituted in as part of warming up. Players will get themselves going, work on shooting touch, and see the ball go in the basket.
Basketball Drill Overview
Drill Name: Pin Down Team Warm-Up Basketball Shooting Drill
Equipment Needed: 1 basketball per player.
Similar Basketball Drills and Resources
Goals of the Drill
Work on shooting and warming up.
Coaching Points
Max four players to a basket for spacing.
Focus on getting your legs under the ball and being balanced on your shot.
Finish high and hold your follow-through on every shot.
Really look to lock in on proper shooting technique and develop good shooting touch.
Basketball Drill Instructions
The player is going to start with the ball just outside either lane line.
They will spin the ball out to themselves up the lane line about 8-10 feet from the basket, and as they are catching the ball, they will inside pivot into a shot.
The player will get their own rebound and then get back in line.
The player must make four in a row before switching sides.