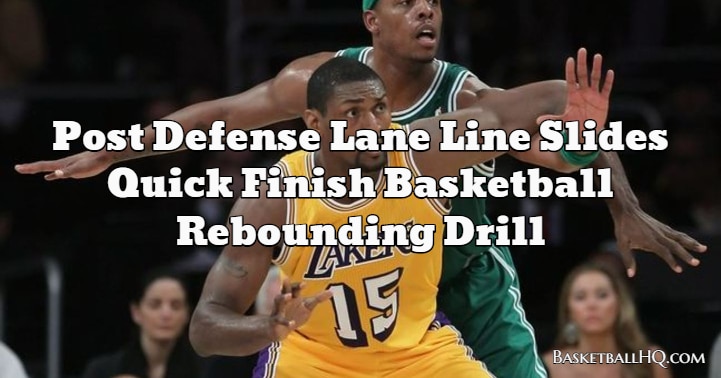 If you can lay the basketball up off the glass before the defender can get off the ground, you limit their shot-blocking ability. With this basketball rebounding drill, you will work on rebounding the basketball and then using a quick finish before the defender can react and get up off the ground to block your shot. You can use the rim to help protect your shot by doing a reverse layup if needed. This basketball drill works on rebounding, but it will also help the player develop soft hands and a good touch around the basket.
Basketball Drill Overview
Drill Name: Post Defense Lane Line Slides Quick Finish Basketball Rebounding Drill
Equipment Needed: 1 basketball and a partner.
Similar Basketball Drills and Resources
Goals of the Drill
Work on rebounding and then finishing quick around the basket.
Coaching Points
Don't wait for the ball to come to you, but jump and get it at its highest point.
Mix up finishing on either side of the basket by using your pivot foot, sometimes do a reverse layup.
Basketball Drill Instructions
The partner will start with the basketball on the free-throw line, and the player will start on one of the blocks with their chest facing out to the 3 point line.
The player is going to defensive slide up and down the lane line until the partner tosses the basketball up off the rim/backboard.
When the shot goes up, the player will turn, box out, and then go get the rebound.
As soon as the basketball is rebounded, the player will use a quick finish off of the backboard.
Use a dribble if you are too far away from the basket when you get the rebound.
After the player scores the basketball, they will get the ball out of the net, pass it back to the partner, and then reset on the opposite lane line.