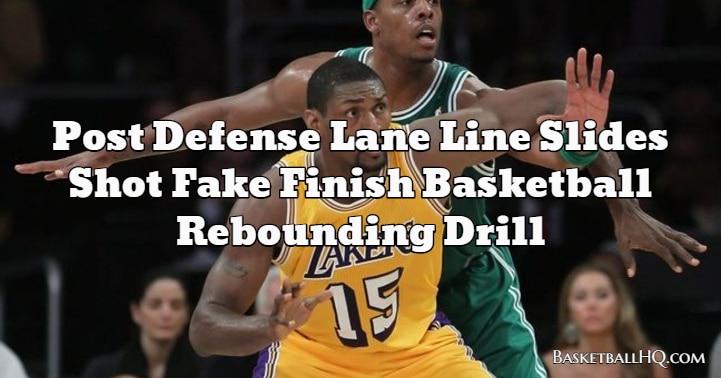 If you get an offensive rebound, you are not always going to be able to go right back up and score it. Most of the time, there is going to be a shot-blocker there. This is when you will use the shot fake finish scoring move. This is a great basketball drill because it allows you to work on rebounding and then finishing around the basket all at the same time. Not only will you work on rebounding and finishing around the basket with this type of basketball rebounding drill, but you will also work on defense, footwork, and conditioning. It is important to be able to do something with the basketball once you get it.
Basketball Drill Overview
Drill Name: Post Defense Lane Line Slides Shot Fake Finish Basketball Rebounding Drill
Equipment Needed: 1 basketball and a partner.
Similar Basketball Drills and Resources
Goals of the Drill
Work on guarding the post, rebounding the basketball, and finishing with a shot fake finish move.
Coaching Points
Get your head around and locate the basketball as quickly as you can.
Once you have located the basketball, retrieve it at its highest point.
On the shot fake, don't bring the basketball down to your waist where it can get stripped by a guard.
Basketball Drill Instructions
Partner/coach will stand at the free-throw line with the basketball, and the player will start on the block with your chest facing out to the 3 point line.
The player will begin to slide up and down the lane in a defensive slide.
When the coach/partner shoots the basketball off the rim, the player will turn, box out, and then go rebound the basketball.
Once they rebound the ball, they are going to shot fake and step through for a layup.
Now the player will get the ball out of the net, pass it back to the coach/partner, and then reset on the other lane line before the next rep.
Continue the drill for the desired number of repetitions.