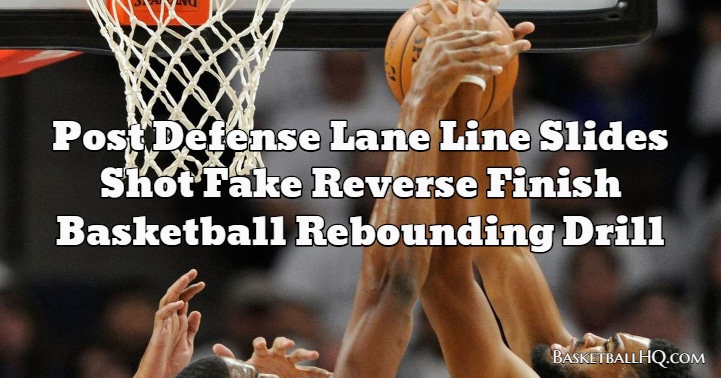 When you get an offensive board, you may not be able to just overpower the defender and go up and finish over the top of them. You may need to be crafty around the basket and use the rim to protect you from getting blocked. This basketball drill will help you work on your rebounding and then use the shot fake and reverse finish to score at the basket. The player must know what to do with the basketball when they get the offensive rebound because they will most likely be in a good position to score the basketball.
Rebounding the basketball is a skill just like anything else in basketball. So if you want to be good at it, you have to spend the time doing basketball rebounding drills and training to be a rebounder.
Basketball Drill Overview
Drill Name: Post Defense Lane Line Slides Shot Fake Reverse Finish Basketball Rebounding Drill
Equipment Needed: 1 Basketball and 1 partner.
Similar Basketball Drills and Resources
Goals of the Drill
Work on rebounding and then using the shot fake reverse finish develops good footwork as well.
Coaching Points
Focus on a good defensive slide and as soon as the ball goes up, get your head turned around.
Locate and react to the basketball as quickly as you can.
Try to grab the ball as quickly as you can.
Make sure that you sell your move and don't travel.
Basketball Drill Instructions
The player will start on either block with their chest facing out to the 3 point line, and the partner is going to start with the basketball at the free-throw line.
Now the player is going to begin defensive sliding up and down the lane.
Once the coach tosses the basketball up off the rim/backboard, they will pivot, box out, and then release to rebound the basketball.
After the player gets the ball, they are going to shot fake, step through, and then reverse finish on the opposite side of the rim (If the ball bounces too far out on the rebound, the player can take a dribble after the shot fake to finish on the other side of the basket).
The player will now get the ball out of the net and pass it back to the partner and then start on the opposite lane before repeating.