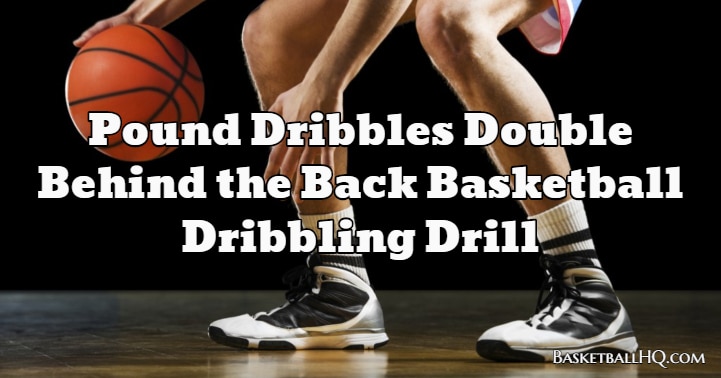 This dribbling drill adds to the pound dribbles drill, where you dribble the basketball as hard as you can with one hand. Instead of just pounding the basketball as hard as you can, you will add in a double behind the back move. This will make the basketball dribbling drill more difficult for the player, and it will also help them work on being able to dribble the basketball behind their back.
In this basketball training video, make sure that you notice how the player is not worried about losing the ball while doing the drill. This is not because he is careless, but because he is pushing himself and challenging himself to go as fast as he can. It is up to you to push yourself and get outside of your comfort zone; that is how you will take your handles to the next level.
Basketball Drill Overview
Drill Name: Pound Dribbles Double Behind the Back Basketball Dribbling Drill
Equipment Needed: 1 basketball.
Similar Basketball Drills and Resources
Goals of the Drill
Develop your handles and work on the double crossover move.
Coaching Points
Basketball Drill Instructions
The player will start with a basketball in either of their hands, and when the drill starts, they will dribble the ball as hard as they can two times (just below waist height).
After the second dribble, they will cross the ball over to their other hand and then right back.
They will keep this dribble pattern up for about 20-30 seconds before switching hands and repeating for the same amount of time.