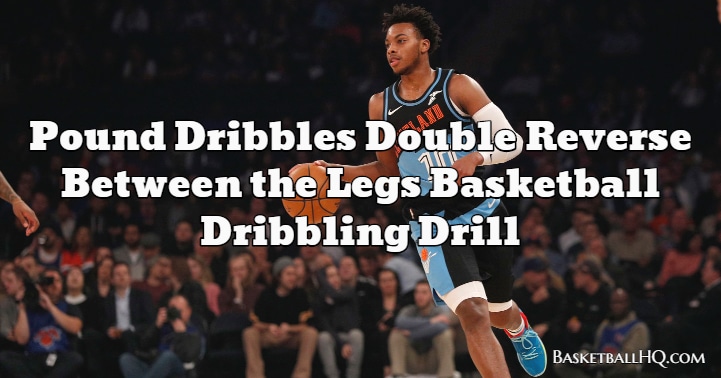 The pound dribbles double reverse between the legs dribbling drill is an advanced ball-handling basketball drill that will work on going from dribbling the basketball to immediately making a combo move. In a game, you may not always have the time to predetermine the move you will make. You may have to go from dribbling the basketball to immediately making a move; this drill will prepare you for that.
Along with working on making the move quickly, this stationary one ball basketball dribbling drill will help the player work on being able to handle the ball equally as well with either hand. When you watch this basketball training video, notice how the player is pounding the basketball equally as hard with his right and left hand. This makes sure that he is developing both his strong and weak hands equally.
Basketball Drill Overview
Drill Name: Pound Dribbles Double Reverse Between the Legs Basketball Dribbling Drill
Equipment Needed: 1 basketball.
Similar Basketball Drills and Resources
Goals of the Drill
Develop your handles and work on your combo moves as well.
Coaching Points
Dribble the basketball as hard and as quick as you can.
Don't worry about messing up or turning the basketball over while doing the drill.
The goal is to push yourself and get out of your comfort zone.
Basketball Drill Instructions
The player is going to stand in an athletic stance with the basketball in their right hand.
They will take 2-pound dribbles with their right hand and then do a double reverse between the legs move (scissors).
This dribbling pattern will continue for 20-30 seconds, and then the player will switch which hand starts the drill and then repeat.