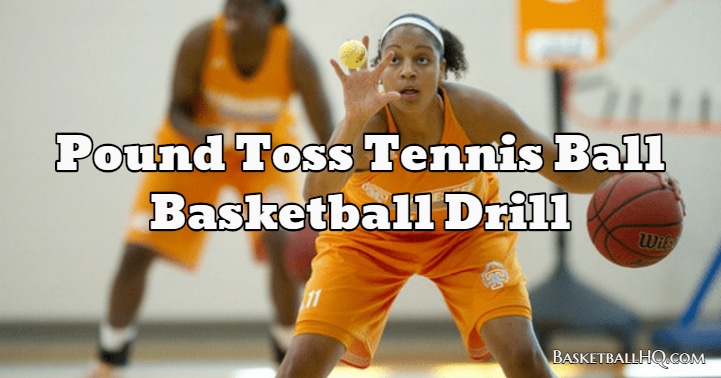 This is a beginner tennis ball basketball dribbling drill, and it is great for younger kids who are just learning how to dribble and players who have been playing basketball for a long time. The goal is to train the player to keep his/her eyes up while they dribble the ball.
This basketball dribbling drill will also help to build hand-eye coordination. It is a great basketball drill to get your hands warmed up before starting a workout or getting into some more difficult ball handling drills.
Basketball Drill Overview
Drill Name: Pound Toss Tennis Ball Basketball Drill
Equipment Needed: A basketball and a tennis ball.
Similar Basketball Drills and Resources
Goals of the Drill
Improve ball handling, hand-eye coordination, and practice dribbling with your eyes up.
Coaching Points
Don't look down and focus on a good toss/catch every time.

This is important as you move onto more difficult basketball drills, and you need to make sure that you are working on it now.

Dribble the basketball as hard as you can, and don't be afraid to mess up.
It is actually encouraged to lose the ball because that means you are getting out of your comfort zone.
Basketball Drill Instructions
Begin in a dribble position with a tennis ball in one hand and a basketball in the other hand.
Pound dribble the basketball while throwing the tennis ball in the air.
Catch tennis ball with the same hand while continuing to do the move with basketball.
Repeat the action for 30 seconds to a minute, and then switch hands.