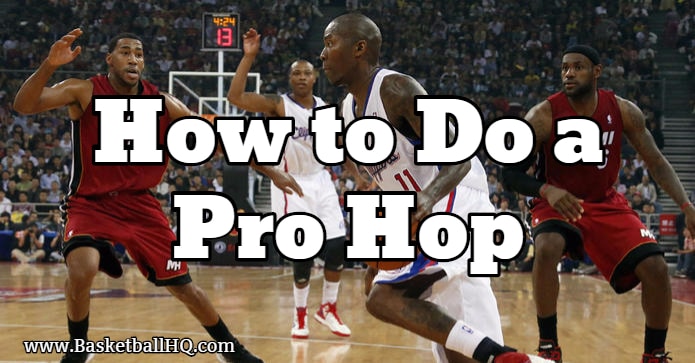 The pro hop basketball finish got its name because of how many NBA players use the move, and because it is more of an advanced basketball move. If done right, though, it can be very effective to avoid charges and finish around the basket. It is a move that wing players should add to their arsenal and is considered one of the basketball fundamentals for finishing around the basket.
You will be able to learn the fundamentals of how to do a pro hop with this basketball training video and then also see a player demonstrate the move. When making the move, you need to make sure that you are under control and can sell the move as you pro hop back over top of the defender.
Basketball Drill Overview
Drill Name: How to Do a Pro Hop in Basketball
Equipment Needed: 1 basketball and a basket.
Similar Basketball Drills and Resources
Goals of the Drill
Learn the fundamentals of the pro hop move.
Coaching Points
Protect the basketball when you make the move and visualize the imaginary defender.
Focus on the proper footwork and selling the move.
Two different types of pro hops that you can use:

(A) Pro hop laterally and keep your shoulders squared to the basket for a finish.
(B) Pro hop laterally and rotate your body so that the defender is now on your butt and your body is shielding the finish.
Basketball Drill Instructions
Dribble to the right or left, and when you get to where you want to make the move, you will jump stop on both feet.
Now jump laterally to the side that doesn't have the basketball.
As you are jumping laterally, you will bring the ball over top and across your body.
You can choose to rotate your body or keep it square to the basket while you are in the air.
Land on both feet at the same time and then jump again to finish.