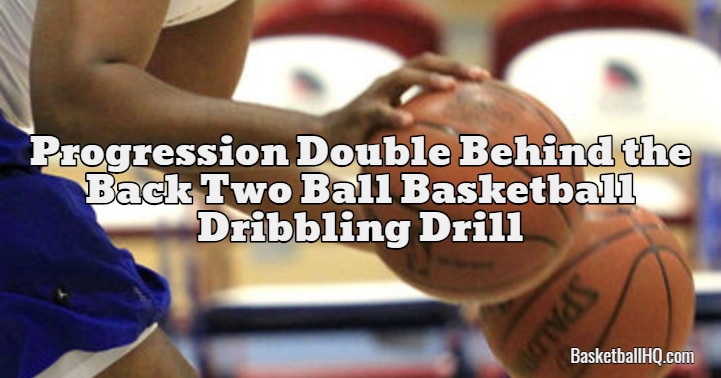 This is a more advanced two ball basketball dribbling drill, but it can be very beneficial to a ball handler if mastered. It is a great basketball dribbling drill because it works on both hands simultaneously, and it makes you think about having to dribble two basketballs at the same time. Every time you do a move, you have to think about the other hand doing another move.
It is also great to work on the double behind the back move and improve overall hand-eye coordination and touch. With getting a lot of repetitions at the double behind the back move, you will have more confidence to use this move in a live-game situation. One of the reasons you use basketball drills like this is to develop confidence with all of your moves.
Basketball Drill Overview
Drill Name: Progression Double Behind the Back Basketball Dribbling Drill
Equipment Needed: 2 Basketballs
Similar Basketball Drills and Resources
Goals of the Drill
Improve hand speed, strength, and handles.
Coaching Points
Keep your eyes up.
Push yourself, and don't be afraid to mess up.
Keep your back straight.
Basketball Drill Instructions
Get low in an athletic position, dribble both basketballs at the same time 1, 2, 0r 3 times (depending on the skill level of the player – 3 being the easiest), and then cross one ball behind your back and the other in front of you.
Immediately cross both basketballs over to their original sides.
Take another stationary dribble(s) and then do the same move, but start the double behind the back move with the opposite hand.
Alternate which hand starts it every time.