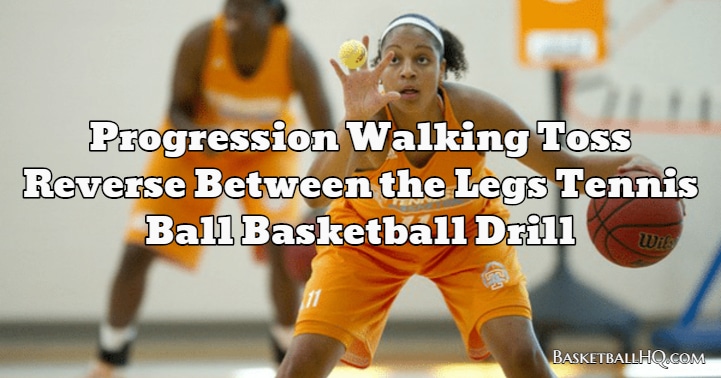 To be a good basketball point guard, you need to read the floor to see what the defense is doing and find open teammates. You will not be able to do this if you are constantly looking down while you are dribbling the basketball. Tennis ball basketball dribbling drills force you to keep your eyes up on the tennis ball, and they also help you develop good hands.
Mixing in tennis ball drills is a great way to keep your basketball dribbling drills fresh. This will help to keep the player motivated and working hard to become a better ball handler.
Basketball Drill Overview
Drill Name: Progression Walking Toss Reverse Between the Legs Tennis Ball Basketball Drill
Equipment Needed: 1 basketball and 1 tennis ball.
Similar Basketball Drills and Resources
Goals of the Drill
Focus on dribbling the basketball without looking down and develop soft hands.
Coaching Points
Push yourself to go as fast as you can, and don't worry if you mess up.
Give yourself a good toss every time.
The more advanced of a ball-handler you are, the fewer dribbles you should use in between moves.
Basketball Drill Instructions
The move you are going to use is the reverse between the legs.
Start on the baseline, take 1-3 dribbles (according to the level of the ball-handler), toss the tennis ball in the air, and then do a reverse between the legs dribble move.
Catch the tennis ball and then repeat the same pattern with the opposite hand.
Alternate back and forth all the way down the court and then come back, but this time do it while walking backward.