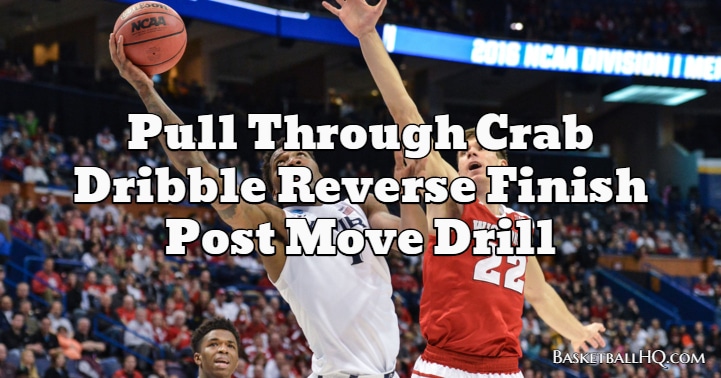 During the course of an offensive possession, there may be guard penetration to the paint. When this happens, the post player must space off the block to create a passing angle and space for the guard. If they do not space, the post defender will be able to help on the drive and also recover in time on the dump-off pass.
This basketball post move drill will work on taking a crab dribble after the pull-through move and then finishing on the other side of the basket. The reason that the post player is going to finish on the other side of the basket is to protect the basketball from the defensive post player. By using the rim, you eliminate the defender's ability to become a shot blocker. This is a great basketball drill that can be done in small groups or practice.
Basketball Drill Overview
Drill Name: Pull-Through Crab Dribble Reverse Finish Post Move Basketball Drill
Equipment Needed: 1 basketball and a partner.
Similar Basketball Drills and Resources
Goals of the Drill
Coaching Points
Get off of the block as quickly as you can, and then catch the basketball with your momentum moving forward.
You want to get into your move as quickly as you can.
Basketball Drill Instructions
The player will start on the block posting up, and the passer will be out by the elbow on the same side of the lane.
When the partner says go or dribbles the basketball, the post player will back out of the post up and get their butt and back to the baseline.
The passer is going to fire a pass to the post player (mix in bad passes to test the player's hands), and the player must catch the basketball, use the pull-through move, take a crab dribble, and then finish on the other side of the rim (chest to the baseline).
After the player finishes, they will get back on the block, and the drill will restart.
If multiple players are doing the drill, the next player in line will go.
Each player should get 6-8 repetitions on each side.