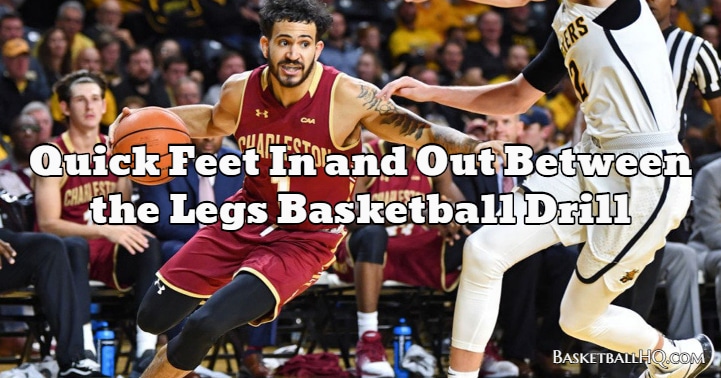 It is not enough to just dribble the basketball; you need to be able to do it on the move while also being able to change directions quickly. This combination basketball shooting drill is great because it allows you to work on your ball handling and your footwork and change of direction quickness. It is also going to end up in a couple of shots for the player. Basketball drills that can work on more than one skill at a time are great for saving time and maximizing gym time.
Basketball Drill Overview
Drill Name: Quick Feet In and Out Between the Legs Basketball Drill
Equipment Needed: 1 Basketball, 5 chairs, and 1 cone.
Similar Basketball Drills and Resources
Goals of the Drill
Coaching Points
Stay low while you are dribbling the basketball and move as quickly as you can through the chairs.
Keep your eyes up while you are dribbling and sell your move.
Basketball Drill Instructions
Place 5 chairs in a straight line along the sideline, begin the line in either corner.
Also, place a cone on the same wing as the chairs.
Have the player stand laterally facing the line of chairs with his chest facing in towards the court.
Now begin dribbling through the chairs laterally.
When you dribble forward, you will use your right hand, and with you dribble backward, you will use your left hand.
Every time you switch hands, you are going to dribble the ball between your legs.
Once you get through all the chairs, attack the cone, and make whatever move you want.
After you make your move, either pull-up for a shot or finish at the basket, mix your finishes up.