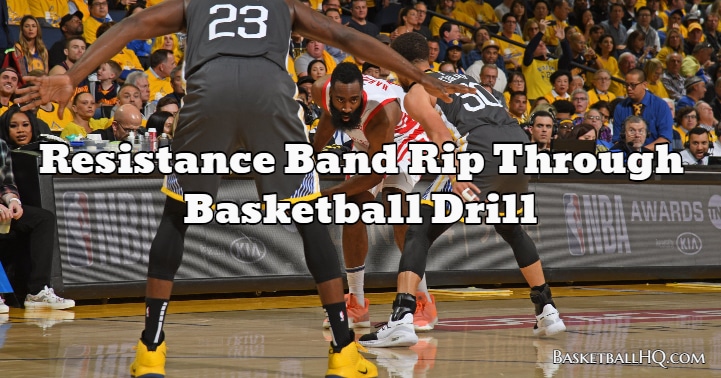 This basketball workout will work on the player's ability to catch the basketball and rip through or jab step and go past the defender that is closing them out. A great time to use this move is when a defender takes a bad angle on the closeout or allows themselves to closeout too tightly on the ball. Along with working on the rip through and jab step move, this resistance basketball drill will incorporate a resistance band around the player's waist. The resistance band will help the player really work on developing an explosive first step.
A big teaching point for this move is having the correct footwork and making sure that the player is attacking in a straight line to the basket. So really pay attention to the footwork when you watch the video. Also, make sure that you do not travel on the jab step move. If you are a basketball coach teaching this move to your players, you may need to break it down to half speed to get the footwork down right and then speed it up.
Basketball Drill Overview
Drill Name: Resistance Band Rip Through Basketball Drill
Equipment Needed: 1 basketball, 2 partners, a chair, and a resistance band.
Similar Basketball Drills and Resources
Goals of the Drill
Work on developing an explosive and quick first step out of the triple threat.
Coaching Points
Stay low on the move, and make sure that you are attacking in a straight line to the basket.
Really watch your feet and make sure that you do not travel.
Cover as much ground as you can with the one dribble.
Basketball Drill Instructions
Set up a chair at the top of the key.
The player will start above the chair at the top of the key with a resistance band around their waist.
One partner will be on the wing with the ball, and the other will be holding the resistance band.
When the basketball drill starts, the passer is going to pass the ball to the player.
The player will catch the ball and immediately rip through, or jab step and go (depending on what you are working on).
They will take 2 dribbles forward to the basket and then take 2-3 retreat dribbles back to the top of the key.
They will pass the ball back to the wing and then get ready for the next repetition.