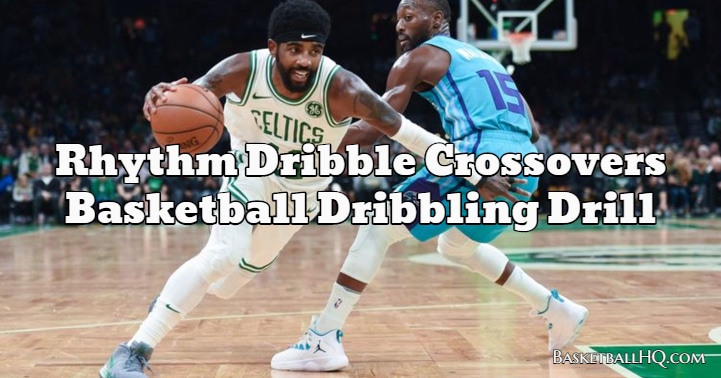 As a ball-handler, you want to be able to go from dribbling the ball to making a move without any hesitation in between. This ball handling basketball drill is designed to simulate dribbling the ball to immediately making a crossover move. This basketball drill works best if you can really visualize selling the move to the defender and changing up your speeds. Being hard to guard means being able to quickly change up speeds.
Basketball Drill Overview
Drill Name: Rhythm Dribble Crossovers Basketball Dribbling Drill
Equipment Needed: 1 Basketball
Similar Basketball Drills and Resources
Goals of the Drill
Work ball handling and touch, as well as the crossover dribble move.
Coaching Points
Sell the move and try to mix up your speeds so that you are going slow to fast.
As you go through this stationary one ball basketball dribbling drill, keep your eyes scanning the floor the whole time.
It is better to lose control of the basketball than to keep looking down.
Sell the move with your shoulders and your eyes.
Basketball Drill Instructions
Start with your legs spread in an athletic stance and your chest up, not bent over.
Pound dribble the ball once, cross the ball over to your other hand, dribble the ball, and then crossover again.
Repeat this move back and forth.
Mix up your speeds during the move.
The drill usually goes for 30 seconds.