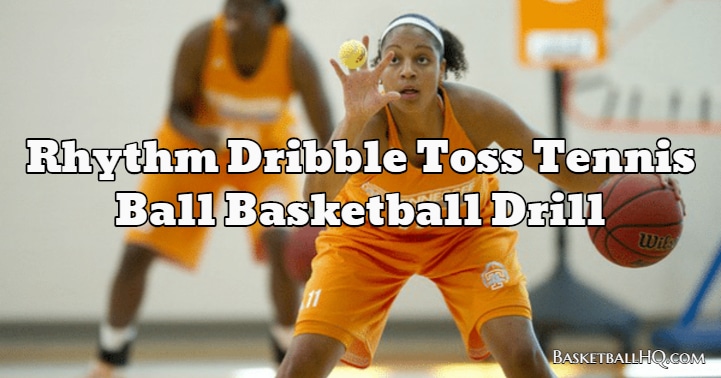 Rhythm dribble tennis ball toss basketball drill combines four different moves into the same basketball drill. It makes you think what move is coming up next while still dribbling the basketball and toss/catch the tennis ball each time.
A good point guard can run the offense while making multiple moves with the basketball and keeping his defender at bay. This tennis ball basketball dribbling drill will help simulate that scenario and improve the player's overall ball handling.
Basketball Drill Overview
Drill Name: Rhythm Dribble Toss Tennis Ball Basketball Drill
Equipment Needed: Basketball and tennis ball.
Similar Basketball Drills and Resources
Goals of the Drill
Work on dribbling and developing soft hands.
Coaching Points
Basketball Drill Instructions
Begin with the tennis ball in one hand and the basketball in the other.
This drill will practice four different moves, and in this order, crossover, between the legs, behind the back, and reverse between the legs.
You will do each move twice, and you will do all the moves in a row continuously.
When the drill starts, you will toss the tennis ball up in the air, and while the tennis ball is in the air, you are going to crossover the ball to your other hand.
Catch the tennis ball with the opposite hand that threw it, and then continue onto the next repetition.
Try to make the move with no dribbles in between the move, but stationary dribbles may be used if needed.