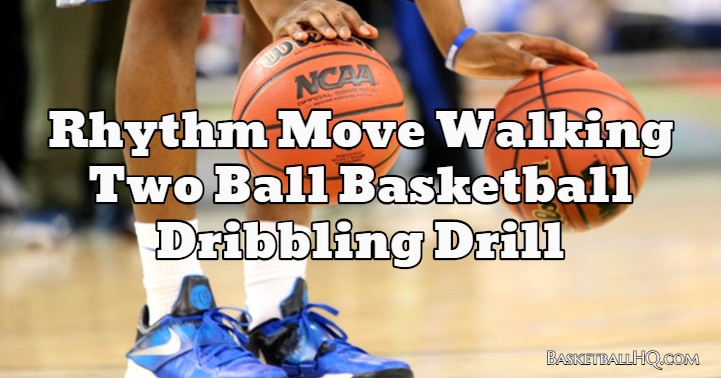 This basketball drill is a combination of several two basketball dribbling drills. It will put several moves together (crossover, between the legs, behind the back, and reverse between the legs) and make the player successfully complete them all in sequence. This will cause the player to do the move and think of what move comes next.
In a game, a ball handler needs to dribble the basketball, make a move, etc., all while reading the defense and seeing the floor. This requires the player to be able to think while dribbling the basketball. Hopefully, this ball handling basketball drill will help prepare the player to think while dribbling the ball, translating over to live game situations.
Basketball Drill Overview
Drill Name: Rhythm Move Walking Two Ball Basketball Dribbling Drill
Equipment Needed: 2 basketballs.
Similar Basketball Drills and Resources
Goals of the Drill
Coaching Points
Keep your eyes up, Go as fast as you can and push yourself, and stay low.
Basketball Drill Instructions
Begin on the baseline with a basketball in each hand and start walking forward.
The first move is 2 crossovers, then 2 between the legs, followed by 2 behind the backs, and then finally 2 reverse between the legs.
Start again with crossovers and all the way to the other end line and then do the same thing back but this time walk backward while doing it.