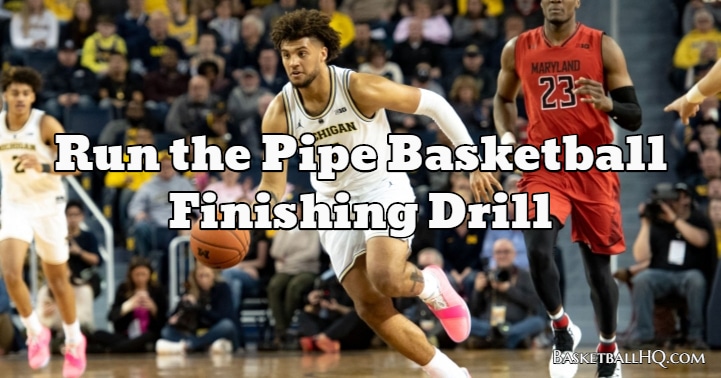 Most basketball coaches have their first big man up the floor in transition run right down the center of the floor to the front of the rim. This terminology is called "rim running" or "running the pipe" (there are some other terms for it as well). The big man wants to run right to the front of the rim and try to get a catch and finish before the defense gets back.
A lot of times, though, the point guard will be out around half court when the post reaches the front of the rim. So the pass will be over the top of the defense or fired in from the top of the key/wing area. This can be a difficult pass for the big man to catch and finish on the run. That is why this basketball post move drill is so important for big men to do. Basketball drills like this are game-specific movements that will be used during a game and must be repped out if you want to succeed when using them.
Basketball Drill Overview
Drill Name: Run the Pipe Basketball Finishing Drill
Equipment Needed: 2 partners and 2 basketballs.
Similar Basketball Drills and Resources
Goals of the Drill
Work on running the floor, catching on the run, and finishing at the basket.
Coaching Points
Mix up the types of passes to the post player, even throw a couple of bad passes to help them work on their hands.
The player needs to run at game speed.
Focus on catching the ball first and then finishing.
Basketball Drill Instructions
There will be a partner/passer on either wing with a ball just inside half court, and the player will be in the center circle at half court.
When the drill starts, the player will run right down the center of the floor to the rim.
The passer on the right side of the floor will make the first pass as the player reaches the paint.
The player must gather the pass and finish without taking any dribbles.
They will get their own rebound, pass it back out, and then sprint back to half court for the next repetition (will get the pass from the opposite passer this time).
Continue alternating for the desired amount of repetitions.