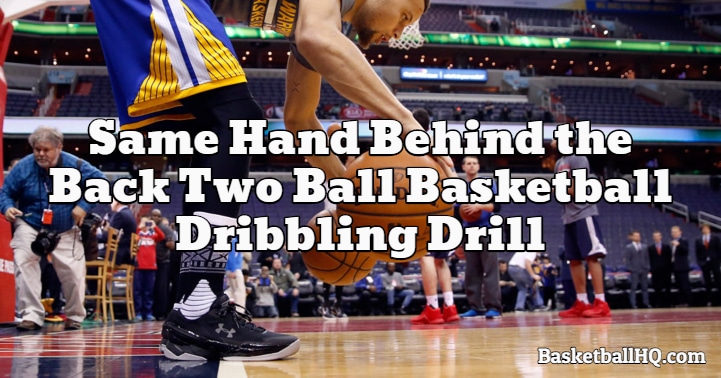 This stationary two ball basketball dribbling drill is designed to help you improve your ball control, and even though you may never use this move in an actual game, you are developing your hand strength and ball control. The better ball control you can develop as a ball-handler, the better you will make moves in traffic, breakdown a defender, etc.
Along with this being a great ball handling basketball drill, it is also a fun drill that players can work on and master. You must have different basketball drills that you can use to break up a workout and keep the players interested and motivated. This is a great drill to do that because it also will help the player get better at the same time.
Basketball Drill Overview
Drill Name: Same Hand Behind the Back Two Ball Basketball Dribbling Drill
Equipment Needed: 2 basketballs.
Similar Basketball Drills and Resources
Goals of the Drill
Improve ball control and touch.
Coaching Points
Pass ball from right hand to right hand and left hand to left hand NOT from right to left or left to right.
You have to put a little bit of a spin on the ball to get it all the way around and also twist at the hips.
The Basketball Drill Instructions
The player will stand upright, holding one basketball in each hand.
Wrap the ball in your right hand around your back and twist at the waist.
Now bounce the ball down on the ground behind your back and then catch it again with your right hand.
Now do the same thing with your left hand.
Alternate back and forth and go for 30-60 seconds.