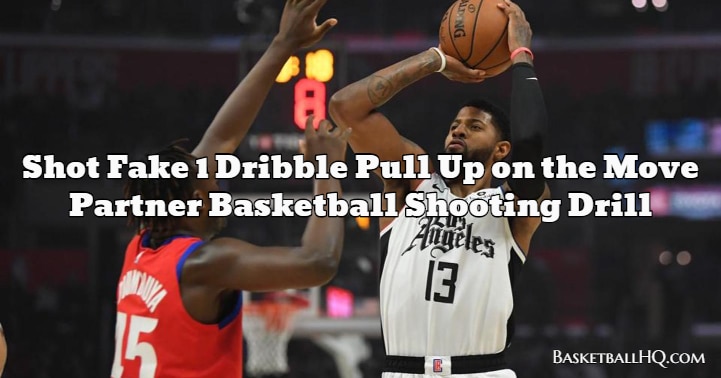 It is a completely different feel making a certain move while on the run compared to standing stationary, receiving the pass, and then making the move. You have to be really focused on your footwork so that you do not travel, and also so that you sell your move.
This shot fake basketball shooting drill is great for working on selling your shot fake and then getting right into your shot off of the dribble. Partner shooting basketball drills are also great for getting a lot of game repetition shots.
Basketball Drill Overview
Drill Name: Shot Fake 1 Dribble Pull Up on the Move Partner Basketball Shooting Drill
Equipment Needed: 1-3 basketballs and 1-3 partners.
Similar Basketball Drills and Resources
Goals of the Drill
Work on the shot fake one dribble pull up move and get lots of reps at it.
Coaching Points
Make sure that you don't travel on the move.
Really try to sell the shot fake and then cover ground past the imaginary defender when you dribble.
Keep your eyes up on the dribble.
Basketball Drill Instructions
You can have groups of 2, 3, or 4 and each group will have one less basketball than players.
To start this basketball shooting drill, the player without the basketball will move around the 3 point line, and one of the other players will pass the ball with their weak hand.
The player is going to shot fake, take one dribble towards the basket (either hand), and then shoot a one-dribble pull-up jump shot.
After they shoot, they will get their own shot and then pass to the next open teammate before relocating for their next shot.
Keep this rotation going for the desired amount of time, group makes, or individual makes.