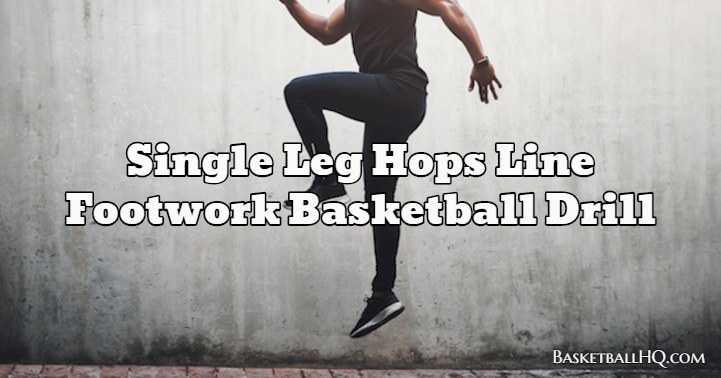 This basketball workout helps develop light and quick feet, but it also helps develop the player's coordination. During this basketball agility and footwork drill, you have to not only execute the proper footwork, but you have to think about which way the ball is going to go around your waist.
Being able to think during the course of doing a move in a game takes practice, and this is a great way to simulate that while also improving your footwork. This basketball workout can be used for any position, but it will primarily be used to improve post players' footwork and hands. Hopefully, this drill will help them catch the ball better and finish more effectively around the basket with different moves.
Basketball Drill Overview
Drill Name: Single-Leg Hops Line Footwork Basketball Drill
Equipment Needed: 1 basketball.
Similar Basketball Drills and Resources
Goals of the Drill
Develop quick light feet and work on your coordination.
Coaching Points
Go as quickly as you can and try to land each time softly.
Don't touch the line when you land.
Be willing to push yourself and get out of your comfort zone; this is where maximum development will be made.
Basketball Drill Instructions
Begin in the corner on the sideline with a basketball in your hands.
Hop back and forth over the line with your left foot and begin moving forward as you do.
Wrap the ball around your waist as you go.
When you get halfway to the half-court line, switch to your right foot.
Once you get to half court, turn around and come back, starting with your left foot and ending with your right again.
This time you are going to rotate the basketball around your waist in the opposite direction.