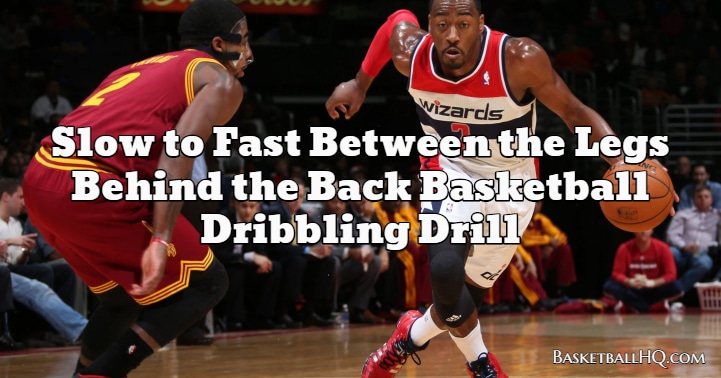 Once you get to a certain level of competition, everyone can play at a high speed. Both the offensive and defensive players are usually pretty evenly matched. What allows the offensive player to get separation with the dribble is selling a move and then also being able to change quickly between different speeds. The better a ball handler can do this, the more they will keep the defender off balance.
This ball handling basketball drill will work on one selling the between the legs behind the back dribble move and then being able to go from slow to fast to blow by the defender. A big part of basketball drills like this one is visualizing a defender in front of you. So as you do this drill, really focus on setting up the imaginary defender each time.
Basketball Drill Overview
Drill Name: Slow to Fast Between the Legs Behind the Back Basketball Dribbling Drill
Equipment Needed: 1 basketball.
Similar Basketball Drills and Resources
Goals of the Drill
Work on ball handling and being able to change from slow to fast.
Coaching Points
Basketball Drill Instructions
The player is going to start dribbling the basketball with their right hand.
They will take a couple of stationary dribbles before executing a quarter speed between the legs move.
As soon as the ball touches their left hand, though, they will snap it back as fast as they can behind their back.
The player will take a couple of stationary dribbles and then repeat the move.
Continue this for the desired amount of time, and then switch hands and repeat.