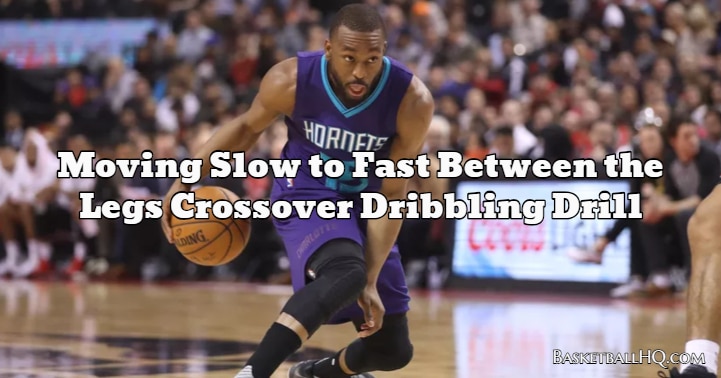 If you look at a player like Jamal Crawford, you can really understand the value of changing up speeds as a ball handler. It isn't that he is that much faster than everyone else; it is his ability to sell his moves and change up his speeds that makes him such a hard player to guard one on one off the dribble.
This basketball dribbling drill is going to work primarily on these two areas. You will be able to work on selling the between the legs crossover dribble move, but also the change of speed that really sets up the defender. This is a great basketball drill to warm up before a workout or to do on your own to develop your ball handling.
Basketball Drill Overview
Drill Name: Slow to Fast Between the Legs Crossover Basketball Dribbling Drill
Equipment Needed: 1 basketball.
Similar Basketball Drills and Resources
Goals of the Drill
Coaching Points
Really lock in on selling the move with your eyes, body position, the ball, and your change of speed.
The goal is to get the defender to relax on the first move and then crush them with the counter move.
Basketball Drill Instructions
The player is going to start dribbling the basketball with their right hand.
They will take a couple of stationary dribbles before executing a quarter speed between the legs move.
As soon as the ball touches the player's left hand, they will cross it back over in front as fast as they can.
The player will take a couple of stationary dribbles and then repeat the move.
Continue this for the desired amount of time, and then switch hands and repeat.