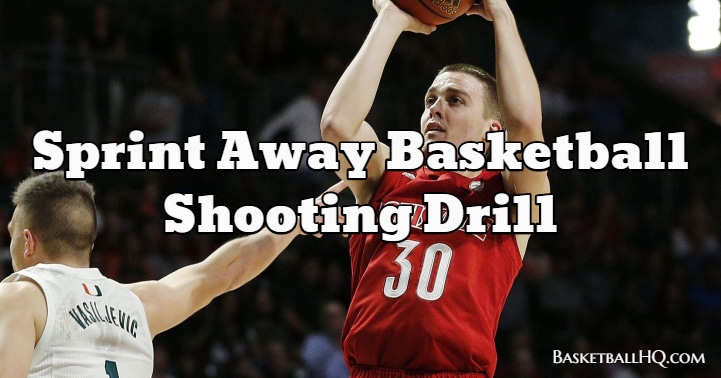 This basketball shooting drill will work on multiple different types of shots and help the athlete work on becoming a complete offensive player. Most of these scoring moves are for a wing player but could also be good for point guards. A big key to basketball drills like this is really focusing on the correct footwork and technique for every move. You don't want to practice something the wrong way and develop bad habits.
Louisville University's coach Mike Balado is the instructor of this combination basketball shooting drill, and he does a great job of teaching each move that the player is going to execute. This is key because the better they can execute a move, the higher percentage their shot will be. Along with this being a good shooting drill, this is also an excellent basketball conditioning drill. Going full speed and working on moves like this will force the player to get in shape while also allowing them to work on their skills. This is a great high school and up level drill to add to your basketball training.
Basketball Drill Overview
Drill Name: Sprint Away Basketball Shooting Drill
Equipment Needed: 2 Basketball, 2 chairs, and 2 partners.
Similar Basketball Drills and Resources
Goals of the Drill
Work on different scoring moves and also conditioning.
Coaching Points
Really focus on the details of each move, and make sure that the player is executing each move the correct way.
Keep every move at game speed and really look to sell every move.
Stay mentally engaged as you begin to get tired and push yourself.
You can make this a competition basketball drill as well to keep the players going hard during the drill.
Basketball Drill Instructions
Set up two chairs in the wing area.
One chair will be just outside the lane line out at the 3 point line, and the other will be more towards the wing 3-4 feet away just inside the arc.
There will be a passer out at the top of the key (5-8 feet off the 3 point line) and a rebounder in the paint.
The player will start right in front of the chairs and is going to shoot a total of 8 shots for the drill and in this order.
All of these shots are going to be back to back.
So it will work on a lot of different scoring moves while also making the player have to think while they do the drill.
Flare screen – Rip through one-dribble pull up (to the baseline).
Ball screen – Turn the corner pull up.
Flare screen – Jab baseline one-dribble pull up.
Ball screen – Split the screen pull up.
Flare screen – Catch and shoot 3 pointer.
Ball screen – Attack the help defender pull up.
Flare screen – Freeze fake shot.
 Ball screen – Refuse the ball screen pull up jump shot.