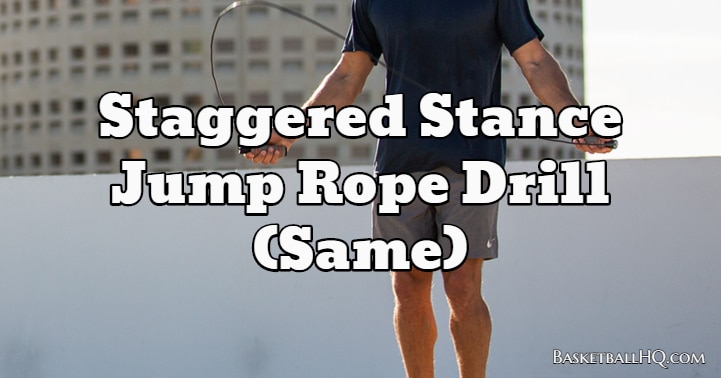 Footwork is used in so many areas of the game of basketball. Whether you are a shooter going into your shot from different spots on the floor or a big man posting up on the block and finishing with a good post move, footwork is important. Jump rope workouts are one of the best ways to improve a player's footwork and make them more efficient when moving on the floor.
The jump rope will force the player to keep their feet moving in a specific pattern and help them learn to stay light on their feet as they are jumping up and down. This basketball workout is not a schoolyard girl's jump roping activity. It will be full speed; push yourself as hard as you can, and learn to have quick feet. With all the value that jumping rope brings to the player, it is a must-add to any basketball training plan.
Jump Rope Drill Overview
Drill Name: Staggered Stance Jump Rope Drill (Same)
Equipment Needed: Jump Rope
Similar Jump Rope Drills and Resources
Goals of the Drill
Learn to be light on your feet and improve footwork
Coaching Points
Push yourself to go as fast as you can while maintaining good footwork and form.
Stay light on your feet, don't let your heels touch the ground, and try not to let the jump rope hit the ground.
Jump Rope Drill Instructions
Start jumping rope with your feet in a staggered position, facing your feet forward.
Jump in the air and land with your feet in the same position when you land.
You can do 3 or so jumps in a row with your right foot forward and then switch in the air on the 4th so that your left foot is forward and rotate every 3 jumps or so.
Also, you could do it on command and have a coach say when to switch.