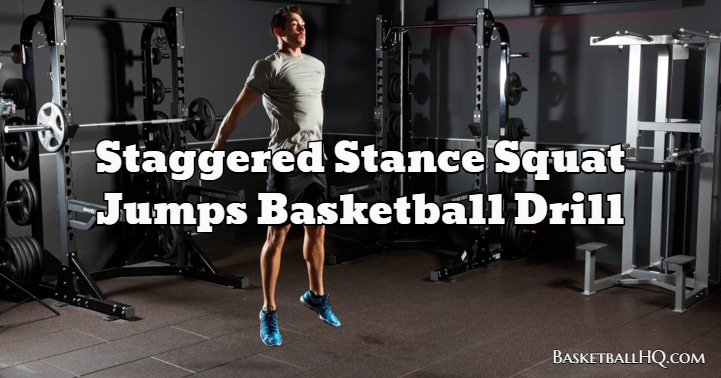 In a game, you may not always be able to get a clear jumping path, and you may be forced to jump from awkward angles. Staggered stance squat jumps are a great way to simulate this because you are not jumping from a traditional stance each time. This vertical jump basketball drill will translate into the game when you jump in traffic to finish at the basket or to get a rebound, and you don't have the ability to get a completely clean jumping path.
Basketball Drill Overview
Drill Name: Staggered Stance Squat Jumps Basketball Drill
Equipment Needed: none
Similar Basketball Drills and Resources
Goals of the Drill
Develop your vertical leap and work on your jumping technique.
Coaching Points
Jump as high as you can each time and use your whole body to help you explode upwards.
Land on your feet as softly as you can.
Basketball Drill Instructions
This is a variation of the athletic position.
Move one foot about a half-a-step back and perform your squat jumps.
Begin by executing one at a time, then advance the drill by performing several jumps consecutively.
Ultimately, you should be able to switch your stance in the air.