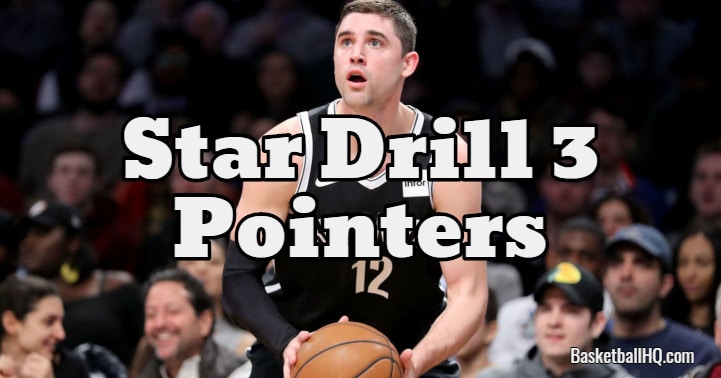 Being able to shoot the basketball on the move and when you are tired can make a big difference at the end of a game. If you have conditioned yourself the right way, you will still have the legs needed to hit big shots at the end of a game. If not, you will be tired, and your shot will come up short.
The star shooting drill is a great drill for simulating coming off of screens and cutting for a catch and shoot shot. If you are looking for a basketball drill where you can get a lot of shots on the move in a short period of time, this is a great drill to use.
Basketball Drill Overview
Drill Name: Star Drill 3 Pointers
Equipment Needed: 2 Basketballs and 2 partners.
Similar Basketball Drills and Resources
Goals of the Drill
Coaching Points
Run in a straight line to the next shot, and don't round your cuts off.
Passer needs to move around and adjust the pass of the angle according to where the shooter is.
Stay in your shot, hold your follow-through, and don't drift on your shot.
Basketball Drill Instructions
There is going to be a shooter, passer, and rebounder.
The shooter will shoot a total of 6 3 pointers.
They will start in the corner and then go in this order; corner, top of the key, corner, opposite wing, opposite wing, and finish in the starting corner.
The player must run in a straight line to the next shot, and the passer must deliver a pass right as the player is getting to the spot to make it game-like.
If this basketball shooting drill is done right, the shooter's running pattern should resemble the outline of a star.