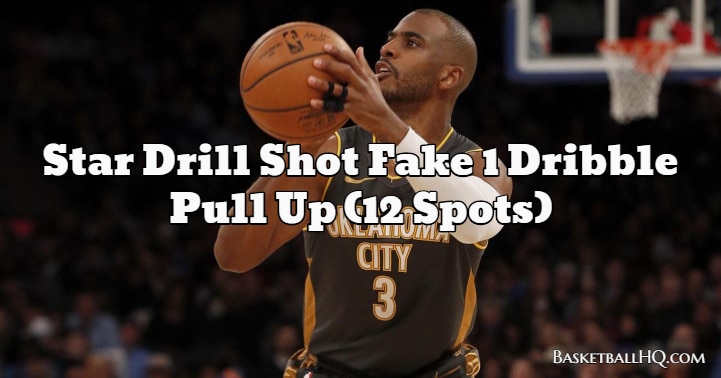 The shot fake one dribble pull-up shot is a great basketball move, especially for shooters. Once you have made a couple of catch and shoot shots or are known for being a good shooter, the defense is going to fly at you to contest your shot. This is when you use the shot fake one dribble pull-up shot.
This basketball shooting drill with a shot fake 1 dribble pull up will allow you to work on this move and get a lot of reps in a short period of time. It will also help work on the shooter's footwork coming into different shots on the floor from different angles. Every time you shoot the ball, you want to get squared up to the basket, and footwork is a big key to that. This is also one of the better basketball drills that work on both shooting and conditioning at the same time.
Basketball Drill Overview
Drill Name: Star Drill Shot Fake 1 Dribble Pull Up (12 Spots)
Equipment Needed: 2 basketballs and 2 partners.
Similar Basketball Drills and Resources
Goals of the Drill
Coaching Points
Run in a straight line from spot to spot, don't round your cuts off.
Sell your shot fake with the ball, eyes, and body.
Cover ground after the shot fake on the one-dribble pull up and mix up which hand you dribble the ball with each time.
Pass the ball to the shooter as they are arriving at the spot to help simulate game feel.
Basketball Drill Instructions
There is going to be a passer and a rebounder.
The passer needs to move around and adjust the passing angle as the player moves from spot to spot.
The shooter is going to shoot a shot fake one dribble pull up from 12 total spots.
Here is the shooting pattern; left corner, top of the key, right corner, left-wing, right-wing, left corner, and then run across the baseline and repeat the same pattern starting in the right corner this time.
The player will get a total of 12 shots.
The shooter must run in a straight line to each spot.