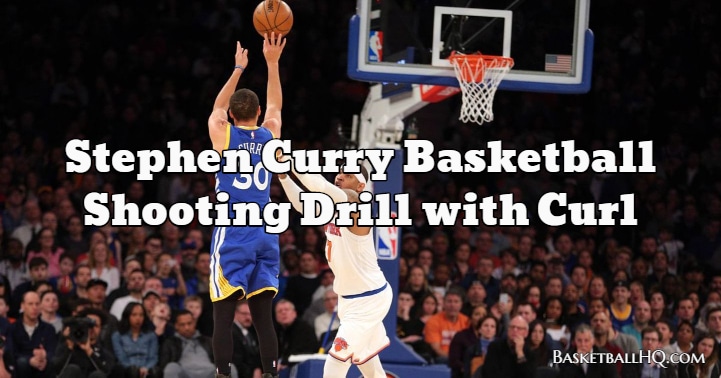 Stephen Curry is considered one of the best basketball shooters in the world, and one of the reasons he is such a great basketball shooter is because of his ability to get open without the ball and his great footwork. Most of the teams that the Golden State Warriors face will put their best defender on him. However, he still seems to end up with quality shots. This is because he has learned to set his man up, use off-ball screens to get open, and then get right into his shot on the catch.
This catch and shoot basketball shooting drill will help you work on your footwork and use off-ball screens for a curl shot. If you want to shoot off the move, you need to spend a lot of time developing good footwork and getting squared up on your shot. Anyone can shoot on the move, but not everyone can make a high percentage of those shots.
When a player starts getting tired, the first thing to go is their technique and basketball fundamentals. With this drill, the player will have to complete the basketball drill and lock in as they get tired; this will help them do the correct footwork and shooting form in a game when they get tired. Basketball shooting drills like this are perfect for working on specific shots that a player will get during the course of a game.
Basketball Drill Overview
Drill Name: Stephen Curry Basketball Shooting Drill with Curl
Equipment Needed: 2 basketballs, 4 chairs, and 2 partners.
Similar Basketball Drills and Resources
Goals of the Drill
Work on shooting off of a down screen with a curl cut.
Coaching Points
Mix up your speeds and go from slow to fast when using the screen.
Make sure that you are getting squared up on the shot and not drifting when you shoot the ball.
Lock in on your basketball shooting form and footwork as you get tired and make shots.
The passer must move around at the top to make the different passes, so the passing angles are game realistic.
Make sure that you are focusing on footwork and technique as the player gets tired.
Basketball Drill Instructions
You will set up four chairs inside the arc; one on each short corner and one on each elbow.
There will be a passer at the top of the key and a rebounder by the basket.
The player will shoot a total of 5 shots and must start under the basket before each shot.
He/she will shoot a curl shot at each chair and in this order; right baseline chair, left baseline chair, right elbow, and then left elbow.
After the fourth shot, they will run to half court, touch the line, and then come back in for a trail three-pointer.
This completes one round through the drill, but depending on the player's level, you can have them go through multiple rounds in a row without a break.