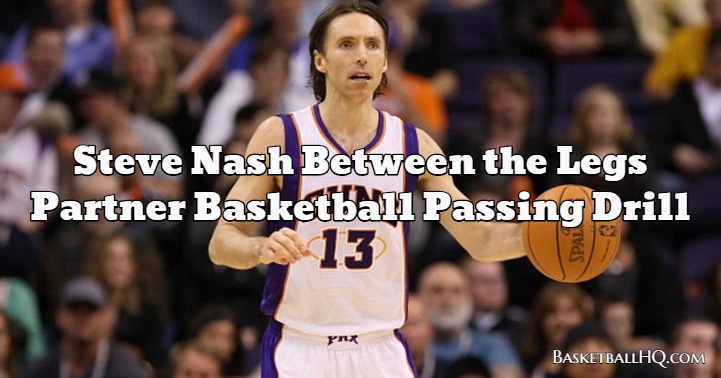 The Steve Nash between the legs partner passing drill is going to be both a ball handling and passing drill. What it is going to work on is the ability to make a push pass off of a dribble. This is important for ball handlers because you never know when a teammate is going to come open off a screen or cut, and you may not have the chance to gather the ball with both hands before making the pass.
The reason this basketball drill is named after Steve Nash is because he really mastered this type of pass, and was constantly using it throughout the course of a game. In his prime, Nash was one of the best passers of all time. However, this pass is a little bit more advanced. So before using this type of pass in a game, make sure that you have really mastered it. You don't want to be inaccurate with the pass or float it, because this will most likely end up in a fast break basket for the other team.
Basketball Drill Overview
Drill Name: Steve Nash Between the Legs Partner Basketball Passing Drill
Equipment Needed: 2 basketballs and a partner.
Similar Basketball Drills and Resources
Goals of the Drill
Develop the player's ability to pass off of the dribble with one hand.
Coaching Points
Stay low in an athletic dribble stance the entire time, don't raise up on the pass.
Make sure that your passes are accurate and that they are on a straight line, don't float them.
It is important that you are able to pass just as well with either hand.
Basketball Drill Instructions
Each player is going to have a basketball in their right hand, and they are going to face each other about 8 feet apart.
At the same time they are going take a stationary dribble, a between the legs dribble, and then make a push pass with their left hand.
They will catch their partners pass and then immediately go right into the same action.
After 15-20 seconds switch which hand starts with the basketball.