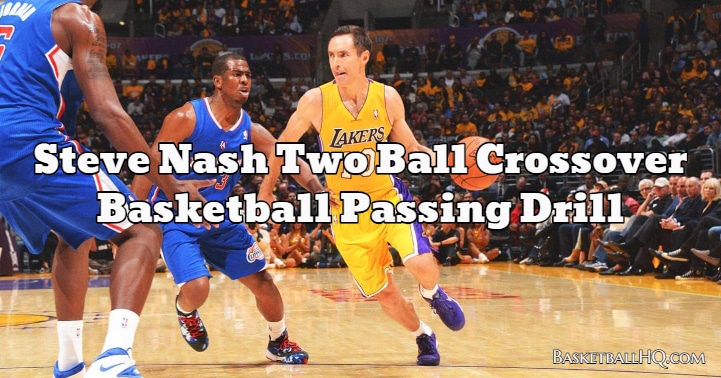 Being able to handle the basketball, see the floor, and then make the correct pass as a point guard or primary ball-handler can be challenging. A big key to running the offense is hitting a cutter or teammate when they pop open, and sometimes there is not a lot of time or space to get the pass in. This is where being able to pass off of the dribble with one hand comes into play. If the ball handler can quickly snap an accurate pass off to a teammate with only one hand, it adds a lot of value to their game.
This basketball passing drill will work on being able to pass with either hand accurately, and it is also going to incorporate some two ball basketball dribbling as well. Passing off of the dribble can be a risky pass if not mastered, so really make sure that you spend the needed time working on this type of pass before using it in a game. Basketball drills like this are also great because a player can do them on their own. All they need are two basketballs and a wall to work on their game.
Basketball Drill Overview
Drill Name: Steve Nash Two Ball Crossover Basketball Passing Drill
Equipment Needed: 2 basketballs and a wall.
Similar Basketball Drills and Resources
Goals of the Drill
Work on passing off of the dribble and handling the basketball.
Coaching Points
Dribble the basketballs as hard as you can and push yourself to have quick handles.
When you make the pass make sure that it is on a straight line, and try to be as accurate as possible.
Basketball Drill Instructions
Place a square or mark up on the wall at about chest height.
The player will face that mark with a basketball in each hand, about 8 feet away.
When the drill starts, the player will begin dribbling both basketballs simultaneously in an athletic stance.
They will make a pass off of the dribble with their right hand.
While the ball is bouncing against the wall and back, they will do a crossover move with the other basketball.
They will gather the ball that hit off the wall with their free hand and then repeat the motion, but this time with their left hand.
Alternate passing hands each time.
The drill should go for 20-30 seconds.