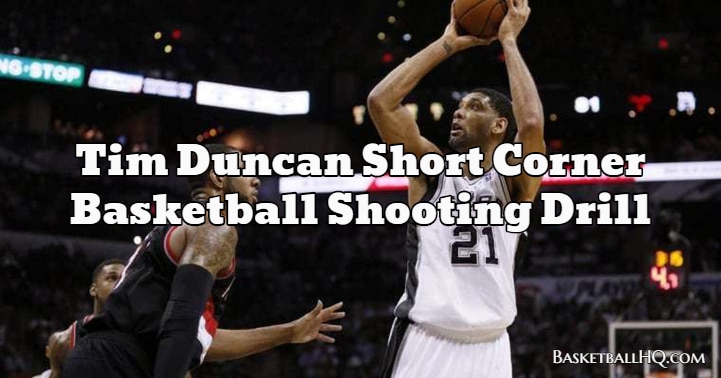 If you asked anyone that watches spurs basketball what Tim Duncan's favorite shot was, they would say the short corner bank shot. Duncan has made a living using this shot because he is extremely consistent at it. He has spent time mastering the details of this shot and taking full advantage of it. This basketball drill will allow you to spend time mastering the bank shot and developing a soft shooting touch around the basket.
The terminology that we are going to use in this basketball shooting drill is T to T, but this simply means short corner to short corner. This is a great basketball shooting drill for working on shooting form and getting warmed up.
Basketball Drill Overview
Drill Name: Tim Duncan Short Corner Basketball Shooting Drill
Equipment Needed: 1 basketball and a partner.
Similar Basketball Drills and Resources
Goals of the Drill
Coaching Points
Shoot the ball high and soft off of the backboard.
Hold your follow-through and stay in your shot each time.
Step into your shot and shoot the basketball the same way each time.
To work on communication, you can have the shooter call for the ball from the passer each time.
Basketball Drill Instructions
Begin on either short corner (8-10 feet) at a good angle to bank the ball in.
Your partner will pass you the ball, step into your shot, shoot the ball off the backboard, and hold your follow-through.
If you make the shot, move to the opposite short corner; if you miss, you must stay until you make it.
The partner will relocate to the opposite side that the shooter is on and try to rebound the ball before it touches the ground each time.
The shooter must make the desired amount of shots or until the time limit is up.
Usually, 8-12 makes or 2-3 minutes timed.