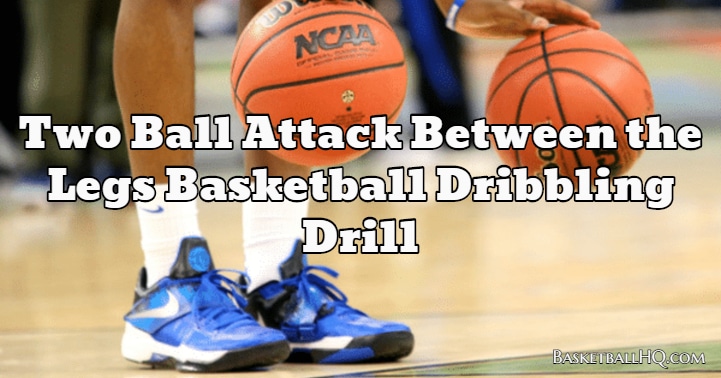 This basketball drill will work on the player's ability to move up the floor at a high speed and then make a dribble move without having to slow down. It is great for simulating transition and attacking a defender that is out in front and already set on defense. To add to the difficulty of this ball handling basketball drill, though, you will add a second basketball. The idea behind adding a second ball is that if a player can do a move with two basketballs in a drill, then they should be able to comfortably execute the move in a game situation with only one basketball.
Two ball basketball dribbling drills are also great for eliminating a player's weak hand. It does this so well because both hands must dribble a basketball the entire time, and the player doesn't have the option of switching the basketball over to their strong hand once they get in trouble.
Basketball Drill Overview
Drill Name: Two Ball Attack Between the Legs Basketball Dribbling Drill
Equipment Needed: Two basketballs.
Similar Basketball Drills and Resources
Goals of the Drill
Work on handling the basketball at a high speed and then making a move without having to slow down.
Coaching Points
Keep your eyes up and see the floor while handling the basketballs.
After you make the between the legs, move really try to push the basketballs out in front of you.
Don't worry about making a mistake or messing up; you have to push yourself and get out of your comfort zone to get better.
Basketball Drill Instructions
The player is going to start on the baseline with a basketball in each hand.
They will begin to dribble the basketballs at the same time and move forward.
The player will make a between the legs dribble move at the free-throw line, half-court, and the opposite free-throw line.
After each move, the player needs to push the basketballs out in front of them (simulating getting past the defender).
When they get to the opposite baseline, they will turn around and come back.