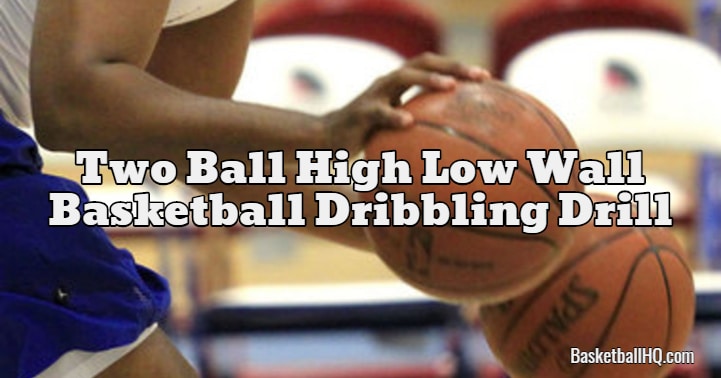 As a basketball player, if you can think and do two different moves simultaneously with two basketballs, you are developing your handles while also building your mental toughness.
This will help translate into the game, and you will better be able to dribble the ball while reading the defense and setting up the offense. Two ball basketball dribbling drills are great for helping younger players work on their weak hand because they don't have the ability to switch the basketball to their strong hand every time they get in trouble. 

Basketball Drill Overview
Drill Name: Two Ball High Low Wall Basketball Dribbling Drill
Equipment Needed: 2 Basketballs
Similar Basketball Drills and Resources
Goals of the Drill
Develop your handles and your hand strength
Coaching Points
Basketball Drill Instructions
Begin this basketball drill by facing a wall and have a basketball in each hand.
Start dribbling the balls about six inches off of the wall right above eye level.
Dribble the basketball low to the wall only a few inches away for about 5 repetitions, and then bounce the balls out to your ears for 3 repetitions and then back in close.
You can also do one hand low and one hand high.