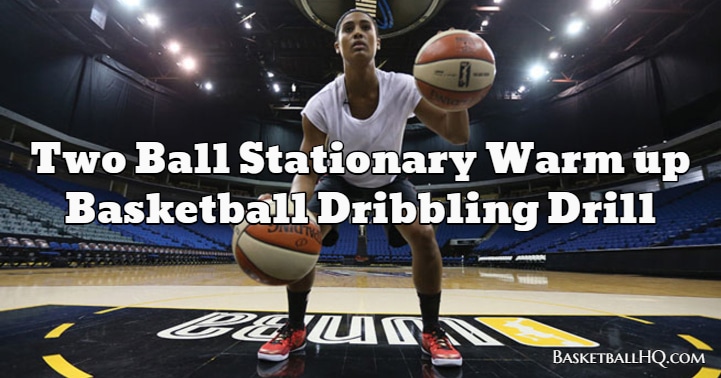 This is a great two ball basketball dribbling drill that you can use to warm up your hands and work on your ball handling. It doesn't require very much space and only needs to be done for a few minutes to be effective. Being able to dribble two basketballs at the same time will help to maximize your training time and also your improvement. You must push yourself when doing basketball dribbling drills like this and pound dribble the basketballs as hard as possible.
Basketball drills like this are also great for developing soft hands for catching and finishing. The more you spend time working on ball control drills like this, the easier it will be to finish at the basket and catch tough passes.
Basketball Drill Overview
Drill Name: Two Ball Stationary Warm up Basketball Dribbling Drill
Equipment Needed: 2 basketballs.
Similar Basketball Drills and Resources
Goals of the Drill
Warm-up your hands and develop your ball handling.
Coaching Points
Dribble the basketball as hard as you can.
Keep your eyes up and stay in an athletic stance the whole time.
Keep the basketballs tight to your body.
Basketball Drill Instructions
The player will start with two basketballs, one in each hand.
He/she will start dribbling the basketball simultaneously at about waist height.
There are going to be 6-8 different dribbling moves that the player is going to cycle through:

Ankle-high simultaneously
Alternating waist-high
Alternating ankle height
Right-hand high/left low (switch)
Front broken windshield wipers
Front windshield wipers
Side windshield wipers
Broken side windshield wipers.

You can change the order of the dribbling moves, but the goal is to do each one for about 10-15 seconds.