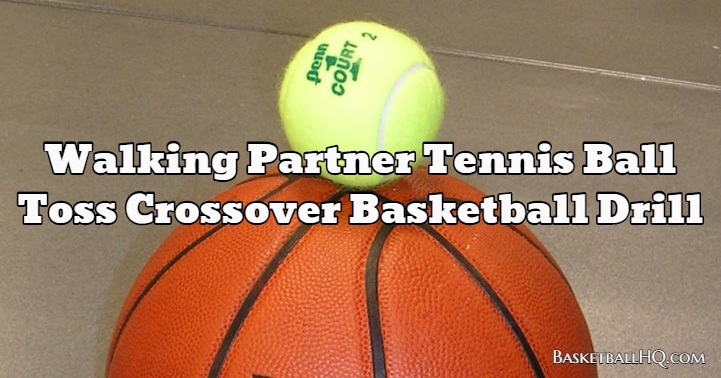 This partner tennis ball basketball dribbling drill is a really good way to work on your ball handling and hand-eye coordination. If a player is having trouble keeping their eyes up on the dribble, this basketball dribbling drill will help force them to keep their eyes up. It will do this because they will have to see the tennis ball toss coming at them.
Being able to see the floor while dribbling the basketball is really important for primary ball handlers. If you cannot dribble with your eyes up, you won't be able to read the defense and see open teammates. This is also a great basketball drill for non-ball handlers as well because it will help to work on developing soft hands. This is going to be key for catching the basketball and finishing around the basket.
Basketball Drill Overview
Drill Name: Walking Partner Tennis Ball Toss Crossover Basketball Drill
Equipment Needed: 1 basketball and 1 tennis ball per player.
Similar Basketball Drills and Resources
Goals of the Drill
Develop your handles and work on hand-eye coordination.
Coaching Points
To make the drill easier, you can communicate with your partner and say toss before tossing the tennis ball to each other.
Keep your eyes up the whole time.
One player will have to toss a little higher than the other player, decide before who is going to.
Pound the basketball as hard as you can and make the crossover move as quickly as you can to give yourself time to catch the tennis ball.
Basketball Drill Instructions
One player will start on the baseline with a basketball in their right hand and a tennis ball in the other.
The other player will face the first player about 5 feet back with a basketball in their right hand and a tennis ball in the other.
Both players are going to start dribbling their basketball and moving up the court.
At the same time, they are going to toss the tennis balls to each other.
While the tennis ball is in the air, they are both going to make a crossover move with the basketball and then catch the tennis ball with the hand that just had the basketball in it.
They will continue to repeat the move all the way up the court, and then once they reach the opposite baseline, they will come back.