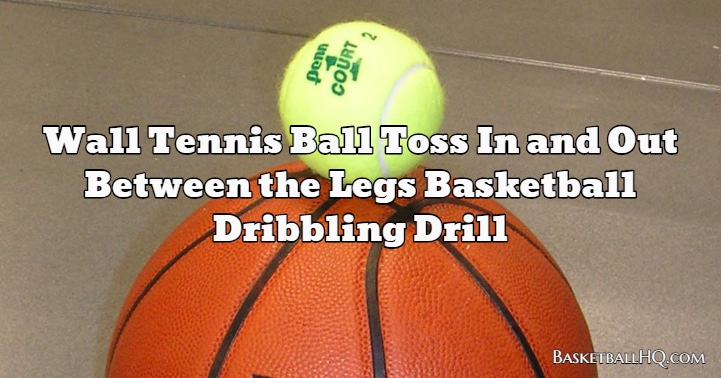 This is an advanced wall tennis ball basketball dribbling drill, but if you are looking to work on your combination dribbling moves, it is a great basketball dribbling drill to use. After you sell the in and out move on the defender, you need to as quickly as you can put the basketball over to your other hand and then go by the defender. Putting the basketball between your legs will help to protect yourself from getting the ball tipped away from you by the defender as you make the move. When doing this basketball drill, don't worry about messing up. It is going to be challenging at first so just do your best.
Basketball Drill Overview
Drill Name: Wall Tennis Ball Toss In and Out Between the Legs Basketball Dribbling Drill
Equipment Needed: A Wall, 1 Basketball, and 1 Tennis Ball.
Similar Basketball Drills and Resources
Goals of the Drill
Work on the in and out between the legs move and also work on your hand-eye coordination.
Coaching Points
Push yourself, and don't be afraid of messing up; this is how you will get better.
Give yourself a good toss and make the move as quickly as you can.
Stay in a low athletic dribbling stance the whole time.
Basketball Drill Instructions
Stand facing a wall 3-4 feet back with a basketball in one hand and a tennis ball in the other.
Begin dribbling the basketball.
Now toss the tennis ball against the wall underhanded.
While the tennis ball is bouncing against the wall, you will do an in and out between the legs move with the basketball and then catch the tennis ball overhanded with the hand that just had the basketball in it.
Take a couple of dribbles and then repeat the move, but this time with the opposite hand.
Alternate back and forth doing the move for 30-60 seconds.