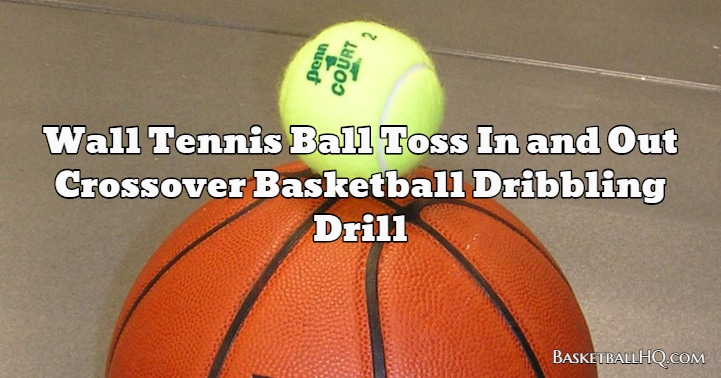 The in and out crossover move is a great dribbling move to use against a defender, and if mastered, it can be tough to guard. It is what is called a combo move because you are combining two moves. As soon as the defender goes to cut off the in and out dribble, you will immediately cross the basketball over and go the other direction.
This wall tennis ball basketball dribbling drill will help you work on the move and make your hands lightning fast. Basketball drills like this are also great for working on hand coordination and quickness.
Basketball Drill Overview
Drill Name: Wall Tennis Ball Toss In and Out Crossover Basketball Dribbling Drill
Equipment Needed: 1 basketball, 1 tennis ball, and a wall.
Similar Basketball Drills and Resources
Goals of the Drill
Work on in and out crossover move, handles, and hand-eye coordination.
Coaching Points
Keep the basketball tight to your body and try to make the move as quickly as you can each time.
Don't be afraid to mess up and lose the ball.
A big key to this basketball dribbling drill is giving yourself a good toss each time. This will make it easier to complete the move and then catch the tennis ball.
Basketball Drill Instructions
Face the wall with a basketball in one hand and tennis ball in the other, about 5 feet back.
Begin dribbling the basketball with one hand and then toss the tennis ball underhanded against the wall.
While the tennis ball is in the air, make an in and out crossover move with the basketball and then catch the tennis ball with the hand that just had the basketball in it.
Take a couple of stationary dribbles and then repeat the move with the opposite hand.
Repeat this back and forth for 30-60 seconds.