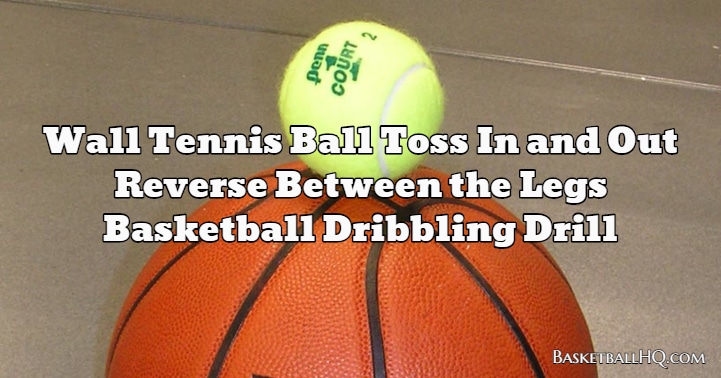 Combo dribbling moves are great for breaking down your opponent off of the dribble, and that is exactly what you are going to work on in this basketball dribbling drill. You will work on your overall handles and hand-eye coordination as well. No matter what position you play in basketball, you need to have good hands. So whether you are a 5′ 11 point guard or a 7-foot center, you can use these types of basketball drills to improve your hands. Having to toss and catch the tennis ball while simultaneously dribbling the basketball will improve your hands and hand-eye coordination drastically.
Basketball Drill Overview
Drill Name: Wall Tennis Ball Toss In and Out Reverse Between the Legs Basketball Dribbling Drill
Equipment Needed: A Wall, 1 Basketball, and 1 Tennis Ball.
Similar Basketball Drills and Resources
Goals of the Drill
Develop your handle and your hand-eye coordination.
Coaching Points
Don't get frustrated if you are not able to do the drill at first.
Just keep working and don't be afraid to mess up.
Focus on giving yourself a good toss every time and try to complete the move as quickly as possible so that you have more time to catch the tennis ball.
Basketball Drill Instructions
Face a wall 3-4 feet back with a basketball in one hand and a tennis ball in the other.
Begin dribbling the basketball and then toss the tennis ball underhanded against the wall.
While the tennis ball is bouncing off the wall, you will do an in and out reverse between the legs dribble move with the basketball and then catch the tennis ball overhanded with the hand that just had the basketball in it.
Take a couple of stationary dribbles and then repeat the move with your other hand.
Alternate back and forth for 30-60 seconds.