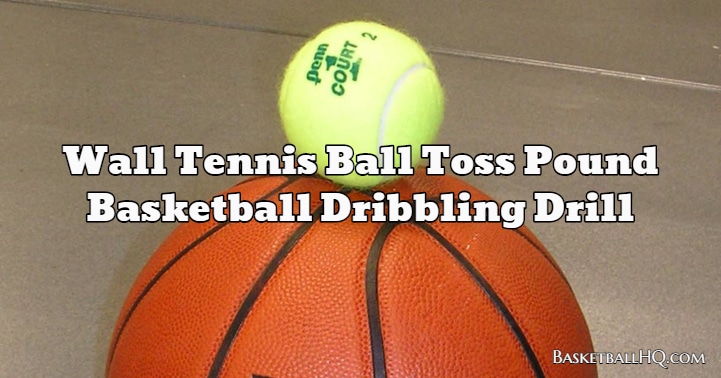 This is a beginner wall tennis ball toss basketball dribbling drill, and it is excellent for helping players work on dribbling a basketball without having to look down the whole time. The tossing and catching of the tennis ball against the wall will force the player to keep their eyes up. Also, this is one of the better basketball drills for improving hand-eye coordination because you have to do two things simultaneously and at different speeds.
Basketball Drill Overview
Drill Name: Wall Tennis Ball Toss Pound Basketball Dribbling Drill
Equipment Needed: 1 basketball, 1 tennis ball, and a wall.
Similar Basketball Drills and Resources
Goals of the Drill
Work on dribbling with your eyes up and hand-eye coordination.
Coaching Points
Dribble the basketball as hard as you can, and don't be afraid of messing up.
The harder you toss the tennis ball against the wall, the harder this basketball dribbling drill will be.
Stay in a low dribbling stance the entire time and keep the ball close to your body.
Basketball Drill Instructions
Begin facing a wall about 5 feet away. Have a basketball in one hand and a tennis ball in the other.
You are going to start dribbling the basketball as hard as you can.
While you are dribbling the basketball, you will toss the tennis ball underhanded against the wall and then catch it overhand with the same hand.
Continue this for 20-30 seconds and then switch which hand has the basketball/tennis ball in it and repeat.