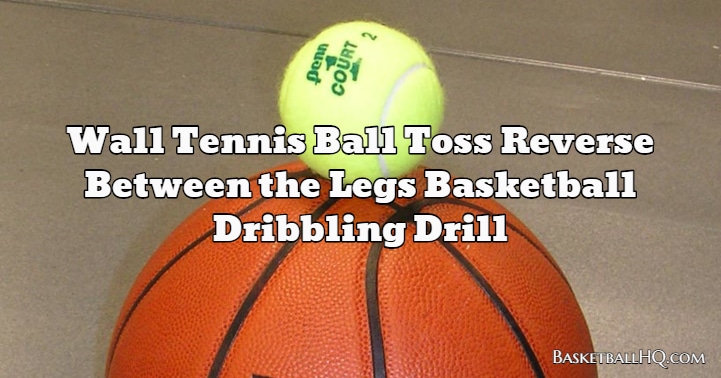 This wall tennis ball basketball dribbling drill will help you improve your handles and hand quickness. Because of having to toss and catch the tennis ball each time you do the move, you are forcing your hands to move quicker than they normally would, making yourself a better ball handler. You are also working on your hand-eye coordination because you have to focus on two things simultaneously. Challenge yourself and your basketball dribbling abilities with basketball drills like this one.
Basketball Drill Overview
Drill Name: Wall Tennis Ball Toss Reverse Between the Legs Basketball Dribbling Drill
Equipment Needed: 1 basketball, 1 tennis ball, and a wall.
Similar Basketball Drills and Resources
Goals of the Drill
Develop quick handles and improve hand-eye coordination.
Coaching Points
The harder you toss the tennis ball against the wall, the harder this basketball dribbling drill will be.
Stay low in an athletic stance and keep your dribble tight to your body.
Make the reverse between the legs dribble move as quickly as you can each time, and don't be afraid of messing up.
Basketball Drill Instructions
Begin facing a wall 3-4 feet back with a basketball in one hand and a tennis ball in the other.
Now start dribbling the basketball and then toss the tennis ball against the wall underhanded.
While the tennis ball is bouncing against the wall, you will dribble the basketball reverse between your legs to your other hand and then catch the tennis ball overhanded with the hand that just had the basketball in it.
Take a couple of dribbles and then repeat the move with the opposite hand.
Continue back and forth for 30-60 seconds.