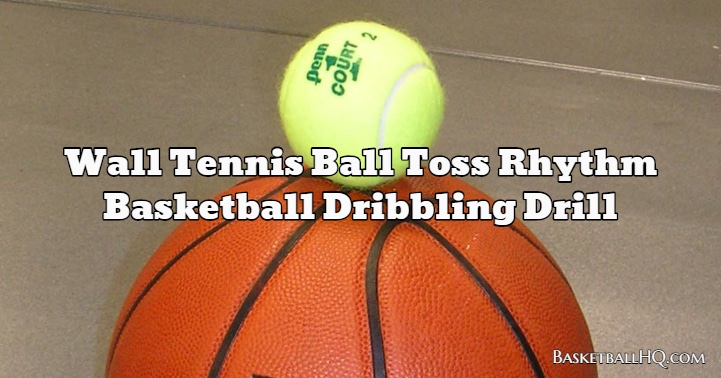 As a point guard in basketball or a primary ball-handler, you will have to think while you are dribbling in a game. It is not just enough to be able to do all the moves. You have to read the defense, get into the offense, and think about what needs to be done to execute the right play.
This basketball dribbling drill will help you work on your handles and make you a better dribbler, but it will also help you practice thinking while you are handling the basketball. With basketball drills like this, you have to think about what move is coming up next in the sequence of moves while pushing yourself to go as fast as possible.
Basketball Drill Overview
Drill Name: Wall Tennis Ball Toss Rhythm Basketball Dribbling Drill
Equipment Needed: 1 basketball, 1 tennis ball, and a wall.
Similar Basketball Drills and Resources
Goals of the Drill
Work on your handles and your hand-eye coordination.
Coaching Points
Make your move as quickly as you can to have more time to catch the tennis ball off the wall.
The harder you toss the tennis ball, the more difficult the drill will be.
Push yourself, and don't be afraid to mess up.
Practice thinking while doing your moves and think about what move is coming up next in the sequence.
Basketball Drill Instructions
Face a wall (3-4 feet back) with a basketball in one hand and a tennis ball in the other.
For this drill, you will do a sequence of 4 different moves (right and left hand) and in this order; crossover, between the legs, behind the back, and reverse between the legs.
Begin dribbling the basketball and then toss the tennis ball against the wall underhanded.
Make the first move and then catch the tennis ball overhanded with the hand that just had the basketball in it.
Take a dribble or two and then repeat the same move with your other hand.
Continue all the way through the moves as many times as you can in 30-60 seconds.