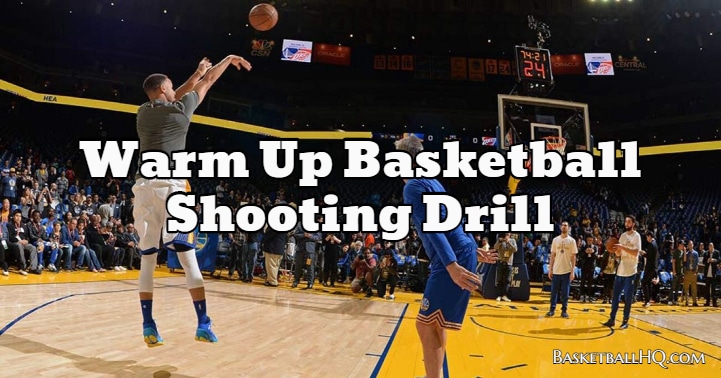 Great basketball shooters have a really good touch with the ball when they shoot it. They always seem to put the ball up on the rim and get a "shooter's roll." With this warm-up basketball shooting drill, you will work on developing your touch and warm up as well. It is a great basketball drill to use before starting a workout, practice, game, etc., because you will be able to warm your body up and get going, but you will get some quality shooting reps.
Another reason this is a great basketball shooting drill is because it can be done without a rebounder. Most catch and shoot basketball shooting drills require a teammate or a coach to rebound the basketball for you, but you can do this drill by yourself. Also, since this drill is not done at full speed but at a warm-up speed, it is perfect for working on shooting technique and footwork. So when you do this drill, you want to make sure that you are really locking in on getting squared up, holding your follow-through, and everything else that goes into a quality basketball shot. That way, when you speed it up and go game speed, these things will, hopefully, transfer over.
Basketball Drill Overview
Drill Name: Warm Up Basketball Shooting Drill
Equipment Needed: 1 basketball.
Similar Basketball Drills and Resources
Goals of the Drill
Coaching Points
Come into your shot the same way every time.
Lock in on shooting the basketball the correct way.
Stay in your shot until you make or miss, and then go after your shot.
As you begin to get warmed up, start going more game speed.
Basketball Drill Instructions
The player will start with the basketball in the paint.
They will spin the ball out to themselves at an angle anywhere they want (14 feet and in from the basket).
As they spin the ball to themselves, they are going to fill up into a shot.
They will shoot the ball, wait to see if it goes in or not, and then go get the rebound and repeat.
Continue for the desired amount of time, repetitions, or makes.