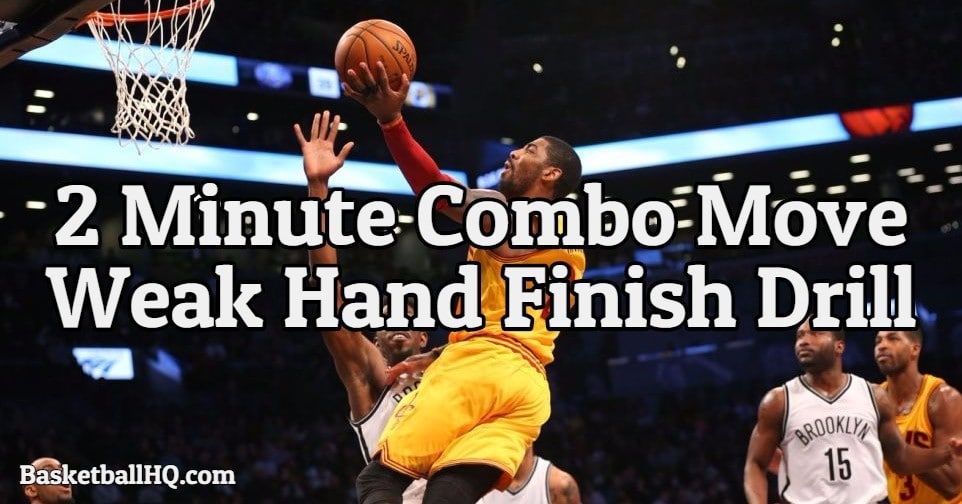 If you look at some of the great basketball finishers around the basket in the NBA, you will see that they use a variety of different moves and can finish with either hand. By being able to be crafty and mix up your finishes, you make it hard on the shot blocker. This is one of the better finishing at the rim basketball drills for working on your weak hand finishes and also learning to be creative around the basket with your moves.
Basketball Drill Overview
Drill Name: 2 Minute Combo Move Weak Hand Finish Basketball Drill
Equipment Needed: 1 basketball.
Similar Basketball Drills and Resources
Goals of the Drill
Coaching Points
Be creative with your finishes, and don't be afraid to miss.
Push yourself and work on your conditioning as well.
Sell your combo move on the wing, and then be explosive to the basket.
Basketball Drill Instructions
The player is going to start with the basketball anywhere outside the 3 point line.
They will begin dribbling, make 2-3 combo moves, and then drive to the basket and use a weak hand finish (floater, runner, scoop shot, Euro-step, etc.).
The player will get the ball as quickly as possible and then go out to the 3 point line in a new spot and repeat using different moves.
The drill lasts for 2 minutes, and the goal is to make as many finishes as you can in the time limit.
You can also turn this basketball drill into a competition if you want with your team by keeping track of who has the most finishes.