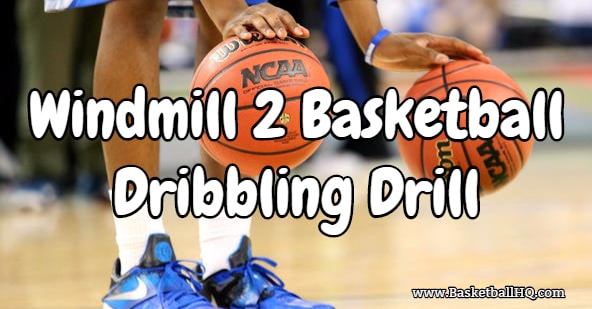 This is a great two ball basketball dribbling drill for developing good hands and working on ball control. Although you will never use this move in a game, it is a great basketball drill to improve your hands and really work on guiding the basketball where you want it to go. To be a great point guard in basketball, it is key that you have good ball control.
These types of basketball dribbling drills are also great for non-ball handlers to do as well because they are good for developing soft hands. A post player needs to be spending time developing their hands to catch the ball, finish around the basket, etc. This is a great drill to use for that.
Basketball Drill Overview
Drill Name: Windmill Two Ball Basketball Dribbling Drill
Equipment Needed: 2 basketballs.
Similar Basketball Drills and Resources
Goals of the Drill
Improve timing, work on ball handling, and learn the reverse between the legs dribble.
Coaching Points
Work on the timing of the basketballs being dribbled through the legs.
Basketball Drill Instructions
The player is going to start with a basketball in each hand.
They will take one stationary dribble with each hand and then wrap both basketballs around and put them reverse between your legs.
Each ball is going to return to the same hand that dribbled it reverse between the legs.
Take a stationary dribble in between each windmill move.
Continue this pattern for 30-60 seconds.