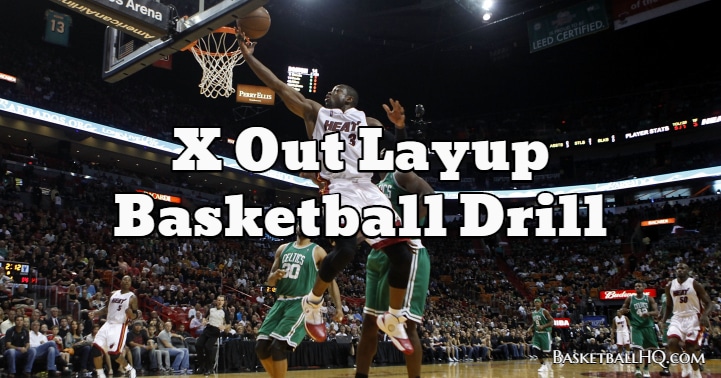 The X Out Layup Drill is a conditioning drill and a drill that works on finishing at the basket. You can push yourself by timing the drill and seeing how many times you can do it in a certain amount of time. The purpose of this basketball drill is to cover ground and limit the number of dribbles that you use to get to the basket.
Basketball Drill Overview
Drill Name: X Out Layup Drill
Equipment Needed: 1 basketball.
Similar Basketball Drills and Resources
Goals of the Drill
Improve conditioning and finishing at the basket
Coaching Points
Turn and go, push the ball out in front of you, be explosive.
Basketball Drill Instructions
The player starts at the right elbow with the ball in his hands and takes one dribble to the basket, and finishes on the right side with the right hand.
He immediately takes the ball out of the net and dribbles to the opposite elbow with his right hand, turns and takes one dribble with his left hand, and lays the ball up with his left hand on the left side.
The ball is taken out of the net and dribbled to the opposite elbow with the left hand.
Right hand in, right hand out.
Left hand in, left hand out.