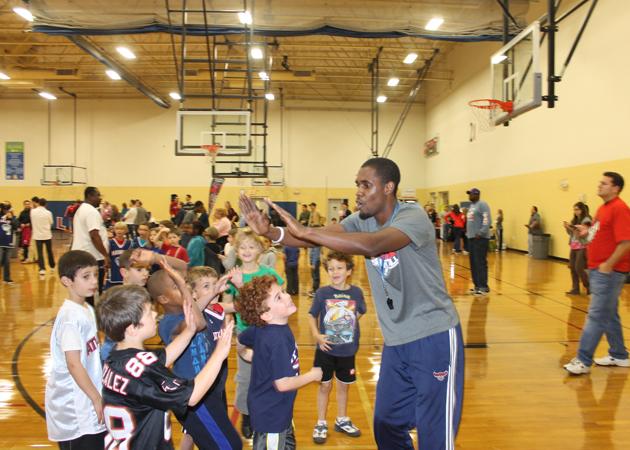 As a youth basketball coach you have the responsibility to teach kids the fundamentals of the game, while also helping them to learn and love the game of basketball. Youth basketball coaches walk a fine line in coaching, because kids need to have fun playing the game, but they also need to develop as players.
It is also a key time in their young playing careers because they can really set themselves apart from other kids their age or fall behind. There are a lot of basketball drills out there and it is hard to decide what drills you should use for younger kids.
You want a basketball drill that is going to challenge the kids but not be too difficult, it also has to be somewhat of a fun drill. The goal of this article is to provide you with some tips about youth basketball drills as well as provide a list of good basketball drills for younger kids.
Shooting Drills
If you have younger players that are not strong enough to shoot the right way on a ten foot hoop then you need to practice on an adjustable hoop that you can lower. It is counter productive to shoot on a ten foot hoop if the players have to launch the ball from their hip to get it up there.
This will only teach bad form and really set them back as they get older. Use a smaller ball and lower hoop to practice shooting. If you do not have a hoop that can lower stay away from shooting and focus on layups, dribbling, and passing.
Dribbling Drills
I cannot tell you how many younger kids I see dribbling a basketball with their eyes down or are only able to really dribble with their dominant hand. The reason they do this is because they were not corrected at an early age and now it is a bad habit.
As a youth coach it is key that you correct your players when you see them doing stuff the wrong way. You are responsible for the basketball foundation for many of these players. Here are some great ball handling drills for younger kids.
One Basketball Dribbling Drills
Two Basketball Dribbling Drills
Tennis Ball Dribbling Drills
Basketball Passing Drills
Being able to pass the ball the right way and on time is a fundamental that most younger kids are lacking today. When a first time youth basketball player gets pressured his/her first response is to pick up the ball and cover it.
As the coach you need to explain and teach them how to pass the ball to the open teammate. Here are some good passing drills that they can do to to help learn the fundamentals of passing.
Conclusion
Youth basketball coaches have a big responsibility to their players because they are laying the foundation for the rest of that players basketball career. They can either set them up with a strong foundation of enjoying the game and understanding the fundamentals, or they can set them up with a not so great foundation that burns out the player or doesn't develop them the way that they need to play at a higher level as they get older.